Released
And then she asked me what I want

And I realized I didn't know.

Instinctively, I thought sex

Because, well, I did.

But as I looked at her I realized that wasn't it.

It was more than that.

I want love, I thought.

I want to lose myself in her completely.

And then before I knew what was happening,

I was speaking

Love, I said.

And she looked at me.

Is that confusion in her eyes? Pity?

I was sure I had said too much

Played my hand too soon.

It was just a fraction of a second

But in that moment

I wished for death.

Anything to end my humiliation.

But before my prayer could be answered

Her lips found mine.

I suddenly felt like I could have everything I ever wanted

I knew exactly the answer to her question.

You, I said.

I want you.

recently came across RegularJOE's RECord "Who are you?" and I was really moved by one of his answers. So I decided to do a lil remix and flesh it out a bit.....

here's the original question:

11. What are you craving right now?

sex, I mean, love, I mean, death, I mean, you

You left me in the stillness of a frozen afternoon

Drowning in the silence that remained

Alone with my thoughts

And your lingering scent

Each inta...
•
1488 Hits
•
37 Recommends

I look into the mirror

And I see a stranger's eyes

I came for my reflection

But instead I just find lies

My dear friend Sleep

Comes knocking at my door

Relentless.

Begging to come in.

I love him dearly, and my heart breaks as daylight forces me to tur...
•
1495 Hits
•
65 Recommends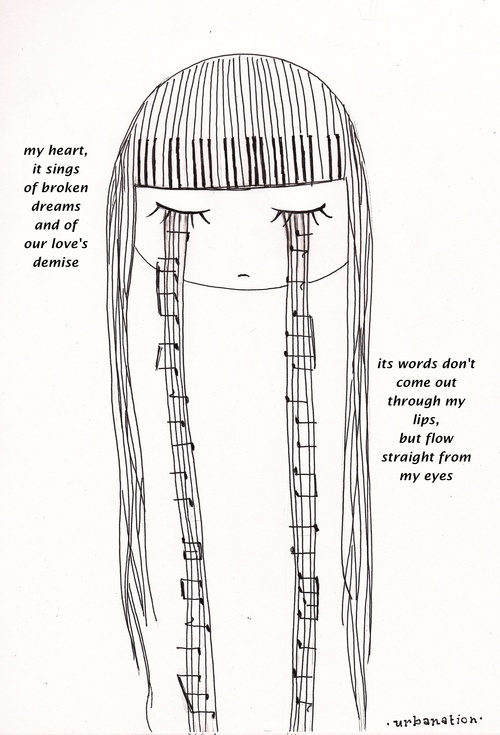 just came across this tiny illustration from Urbanation and absolutely fell in love with it. so I wrote a lil tiny story for it. hope you enjoy.
My heart, it sings of broken dreams, and of our love's demise
Its words don't come out through my lips, but flow straight from my eyes.
•
1211 Hits
•
53 Recommends