if i were to break into a million pieces

and shatter on this very floor

if i did in this very moment, what would you do?

would you look at me, broken and still

and walk away.

would you leave me for all i was, for the display of shattered imperfections i would be?

or would you stay there?

would you pick up my pieces with your soft white hands

and look after each piece carefully,

would you stick me together with

your kisses and glue and sticky tape?

though full of imperfections and flaws,

would you see that I love you, surely?

and would you piece me back together?

would you do that?

just like i always

will

for you.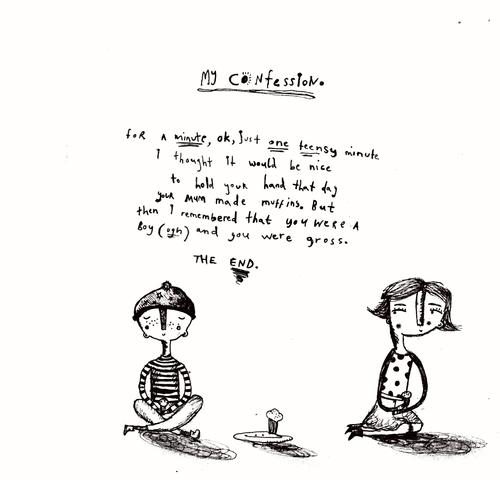 My Confession

For a minute, ok, just one teensy minute, I thought it woukd be nice to hold your hand that day your mum made muffins.
But then I remembered that you were a boy (ugh) and you were gross.
The End.

Hope you like this illustration to go with my tiny story! :)