2000: I begin to lose my voice, literally. Diagnosis: spasmodic dysphonia.
I begin using my other voice...writing a novel at work based loosely on my life as a Special Agent with the U. S. government and as an owner of a small oil and gas company. The title: Dead and Dying Angels.
2001: I self-publish the novel.
I move from Texas to California to work for the U. S. Forest Service as a Civil Rights Manager. My family stays behind.
2002: I read an article in People Magazine about a small publisher in Texas who flukily published the sequel to Bridges of Madison County, and then became a bigger publisher overnight. I email the first page of my novel and hear back within 15 minutes. He wants to see the rest of it.
2 weeks later, I sign a 4 book publishing contract.
2 weeks after that, I try to kill myself. These are unrelated events.
2 months later, my wife files for divorce. That is a related event.
2 days later, I quit my job, give all my worldly possessions to my wife and kids...move back to Texas...buy a bike and become pretty much homeless. Well, there are those flophouses.
2003: I don't remember.
2004: With a loan from my publisher, I buy an old run down house in a tiny Texas town and begin fixing it up.
I meet the most wonderful girl in the world. She becomes my editor...then my wife (skatebard, aka Sid).
2005: My novel, Dead and Dying Angels is sent to press for publication. Advanced review copies are sent out to newspapers, magazines, etc.
2 weeks before the novel is due in bookstores, my publisher gets a call from producer, Bruce Gilbert, whose films (The China Syndrome, Coming Home, 9 to 5, On Golden Pond) have been nominated for 26 Academy Awards. He wants to option Dead and Dying Angels for film.
We sign the contract for a 4 year option.
I see my name in Variety magazine with the title "Gilbert Flies with Angels."
It is a VERY good day.
2006: the second novel of the trilogy, The Vinegaroon Murders, receives great reviews in Texas Monthly, the Houston Chronicle and various other publications.
The Vinegaroon Murders wins the Violet Crown Award for Best Fiction. My 4 children attend the award ceremony at the Texas State Capitol Building.
It is another VERY good day.
Bruce Gilbert meets with New Regency Films, shortly after they made a gazillion dollars from Mr. and Mrs. Smith, with Brad Pitt and Angelina Jolie. They love Dead and Dying Angels and are willing to finance the entire movie...IF Gilbert can attach an "A" list writer, director or actor to the project.
Gilbert meets with Brian Helgeland, Danny Boyle, Gene Hackman, Tommy Lee Jones...and contacts representatives for Brad Pitt and Russell Crowe.
I find out what a big deal a screenplay is. They ALL want to see a script.
2007: My voice comes back.
My wife and I start writing children's books together. Our publisher publishes the first one. It is licensed for public schools by an Israeli educational software firm.
It is a VERY good year.
2008: The final year of the option and the annual check doesn't come.
I get a call from Bruce Gilbert. He tells me he has retired from the movie business.
I am devastated.
2009: I don't remember.
2010: With the help of my amazing wife, I get back to work on the 3rd book in the trilogy, Stalking Azazel.
Our publisher, who has become a very good friend, is diagnosed with Stage 4 colon cancer.
2011: We finish Stalking Azazel.
I discover HitRECord.
2012: Our publisher, and dear friend, dies.
We self-publish Stalking Azazel.
I take up photography again. And then so does my wife.
2013: We are still hopeful for another film option contract...the Possible Dream now seems like the Impossible Dream...
but in the meantime we're enjoying HitRECord, our photography journeys, and life in general.
Oh, and as we say in Texas, I'm fixin' to start on a western novel I set aside several years ago. The title: The Dead Country.
It has been a VERY good year.
*It's been a whirlwind 13 years, so some of the dates may be a little off...but then again, I may be too.
Continue Reading
"Today I will fly," said the penguin. And he did.
The jet pack helped.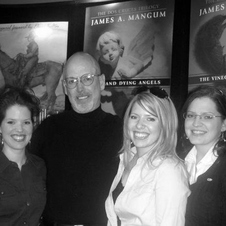 38 Items
The sign said:
"Broken Hearts/We Buy and Sell"
I reluctantly entered
So many hearts upon the shelves
Cracked and splintered
I asked, "Will you buy mine?"
The clerk said, "It all depends."
"On what?" I continued.
"On the shape it's in."
I unbuttoned my shirt
And opened up my chest
She looked at me with pity...
"Sir, there's nothing left."