Released
Whoo, first one ever! After reading through MattConley's great guide, which made things a LOT clearer on how to do it, I'd figure I'd add mine, too!
dark angel, a tiny story by wirrow - Because the sentiment of it is SO TRUE, at least for me! And reading through everyone's responses as to why it was featured and debating the "completeness" of the record is thought provoking as well.
Eros and Psyche Concept Art by ChrisStorms - I love, love, LOVE the idea of doing this story as the (Not So) Tiny Story, and this image has been remixed already, but I feel like this is a great jumping off point and a great representation and interpretation of what it's about. Speaking of...
(Not So) Tiny Story Collab by RegularJOE - It's so much fun seeing everyone's suggestions on here and reading through them, it makes me wonder exactly which one will ultimately be chosen and makes me excited to see what all of us can do with it!
Heart vs. Brain by Yuchai - This is just such a fun image, and it's already spawned other RECs from it, as well. They've all been vastly different from each other and it's interesting to see all the different responses one image helped create. :)
Ascending from Hades by RedHeadMonster - A simple, yet really detailed image, also from the (Not So) Tiny Story collab, that really struck me, espeically after finding out this was mostly computer and not pastel or paint, as it looked to me when I first saw it. It's not an overt Eros and Psyche image, but it's from the story and it's not just another one of the both of them (although I love all of them.:)).
a ninja's guide to giving hearts by fractaldust - I mean, how can you not see this and smile? :D I'd love to see this as a shirt or something in the store, I'd definitely buy it!
Disenchantment by candymythos - Again, there's a lot of sentiments expressed here that I agree with and feel. I'm not as skilled nor do I have the tools, but I wish I could make a video or something to go along with this, or an image. Which leads to another collab...
Emotions dig deep by LesAnanasBananas - It's a really cool collab that I love that has some great text works and images that are thought provoking and intriguing. It would be great if there were more contributions and maybe some kind of video that could be made from it, or music!
I Have...NO CATS. by tonguecutsparrow - OMG such an addictive song! Makes me dance! I mean, nuff said!
we are skeletal lovers by llze - It's such a great combination of text, image, video, and music, and what I've come to feel as a great example of what exactly is done at hitRECord. So many resources used to combine into one perfect overall piece. :)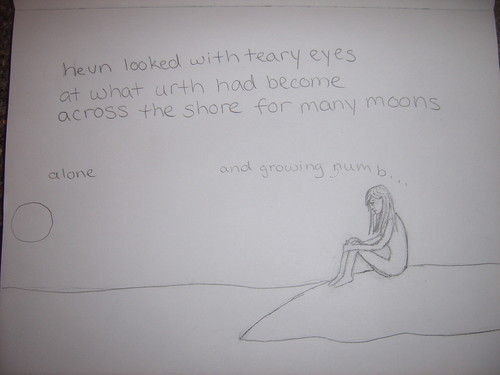 For the stanza:
hevn looked with teary eyes
at what urth had become
across the shore for many moons
alone and growing numb
I wish I had the tools to really polish this up and make it prettier, but hopefully one of you guys would like to collaborate on it to make it prettier! :D