Audio
HitRECord Challenge completed: This Prison resp...
Update Required
To play the media you will need to either update your browser to a recent version or update your
Flash plugin
.
okay! so this is my remix of Joab, Sabine and Metaphorest's song "This prison" in response to AnneMarije's challenge! its just me at my piano but sorry for all of the back ground noises.
Enjoy! and keep the chalenges comming!
Hello everyone,
madzilla here comming to you regaurding a project i thought it would be cool if we could take on within the childhood collab. um i calling it THE BACKWARDS CAPSULE PROJECT . basically its you writing a letter to your past self. what would you want to say to your younger self. i think this would be a good general direction for the collab ya know, books and plot lines now a day are based on time travel ya know, what it would be like if you and your future or past self met. so you can contribute to this project in sevral ways. um text, (ya know a formal letter to yourself) you can record yourself talking to.. yourself or you can post a vieo about it. i think it would be really nice to see this project blossom. at the end of the collab we can take the letters and recordings and and construct one huge bacwards capsule within the childhood collaboration. so ya know, lets make some memories

THANKS!
•
1087 Hits
•
57 Recommends
8:00: open eyes to be met with bright ball of light in sky,

8:30: coax feet out of bed, then hop into overhead waterfall,

8:45: after waterfall rinse, put on articles of woven cloth,

8:50: venture down steps of wood,

9:00: eat sugary colored undying substances with frothy dairy product and spoon

9:10: read bleached papper fillied with black text,

9:12: (push glases into place)

9:30: comence schooling at home,

2:10: look over and correct work (don't bother, you already know it's correct)

3:00: press black and white keys that produce sound (I believe you humans call it music,)

4:30: sit near plastic frequencey hopping device waiting for it to make ringing sound,

5:30: feed four felions

6:00: troll HitRECord.org,

7:00: consume night meal of chickpea spread and lentils

8:00: consume PBS through eyeballs

9:00: exchange daytime articles of cloth for nightime articles of cloth

9:30: close eyes

Repeat.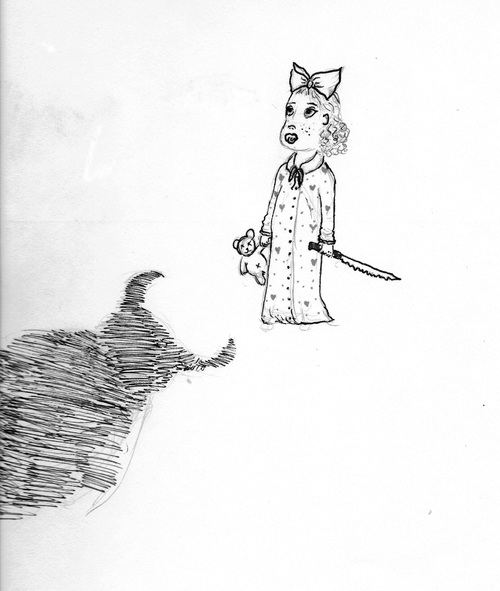 this is for the Kids vs. Monsters collab
because, ya know, every monster-fighting army needs a knife whilding baby.
ENJOY!