Released
Remix of the SXSW invitation. Maybe it's not enough WamBam. But I'm not that WamBam anyway.

Righto! Here we have Version 1 of my visual cut, Nathan's doing some awesome music and I will be keeping further improvements to the visuals in this edit (in perfect time) for the new soundtrack being produced.

Note - Please note this is not my complete visual cut, there are embellishments to be added, extra footage from contributors, example Sirius Dan, Jolynne, and others etc.

So while I can't guarantee to include everything in my edit, there is still more to be added. Particularly i want to add more improvement to creature animations, add more extra,s to fancier visual titles for the opening credits and so on!

Note - there are no sound fx etc yet in this version :)

As an example of the difference between my prior versions with Morgan 1 check out these,

V1 - Morgan 1
http://www.hitrecord.org/records/23276
V4 - Morgan 2
http://www.hitrecord.org/records/42843

•
64943 Hits
•
188 Recommends

An unofficial sequel to the "Morgan M. Morgansen: Radio Trailer" I recently did, this short is television based. I wanted to once again set the piece in the olden days and throw in some more retro technology references. Here it's bad TV reception. The hair brush-back during the fight scene was my favorite moment of the new "Triple M." I definitely wanted to find a way to loop that scene.

One of these days I'll learn some better F/X and make the graphics more high tech.
•
2965 Hits
•
43 Recommends

Right then, here 'tis! Lexy, Chan and I had a ball doing this the other night. I just finished the cut last night. Hope it does justice to Metaphorest's fantastic tale!

It's certainly a much more ambitious story to tell than the first installment of Morgan M. Morgansen. So this version is less complete than the "white walls" version of that last episode. We got a lot of work ahead of us with this one!

Time to get to work on the visuals. Lawrie Brewster, this one has a hell of a lot more settings than the last one. I'm hoping the hitRECord contingent of graphic artists can rally round and pull together on this one.

I want to do another pass on the voice over. There's the characters' gibberish to add, sound effects. And of course, music!

This is the closest I could come to a file that would fit within our video player's 500MB limit. But I'm gonna upload another higher-res file as well for those of you (and there better be a lot!) who want to download it and start adding to it.

<3
•
159159 Hits
•
542 Recommends

One day, when inspiration struck, like a lightning bolt, I decided to settle down in my workshop for the afternoon to create the very first "By Heart" Ring. I think there must be a little bit of magic here at hitRECord.org because I had a bit of an out of body experience whilst making the ring, and fully zoned out....

Anyway, the response to the ring has been truly overwhelming and I can't possibly thank all of you amazing hitRECorders ENOUGH!

However, here is my way of thanking you all, I thought I'd put together a fun little montage of the entire process of making a "By Heart" Ring. This specific ring went to our beloved Lula...

And this is what happened before it got to her...
•
10259 Hits
•
168 Recommends


This is the version of Dance Dance Repetition that screened at Sundance 2010.
•
7163 Hits
•
114 Recommends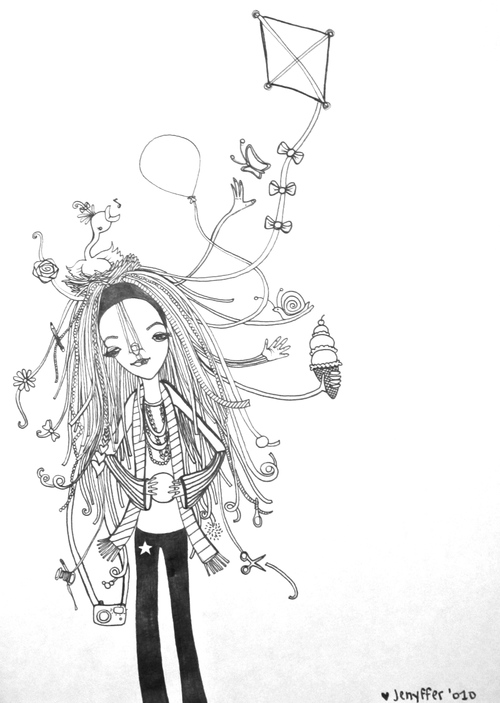 Everyone is working diligently for the screening tomorrow. I got the chance to sit on the sidelines and doodle one of the most magical people here. :)

•
5106 Hits
•
155 Recommends

So the poster we put up yesterday at Sundance got covered up or ripped down as is the way of these things... This failed to stop us though! Teafaerie and I hit the streets again this morning with stapler, camera, and a gleam in our eyes. We retaliated with Like a Gun repetition as is the hitrecord way~ *Photo by Teafaerie
•
1335 Hits
•
22 Recommends