Released
Once there was a ball of yarn. It was soft and lovely, all the colours of a sunset. This ball of yarn sat in a basket next to a rocking chair where an old woman did her knitting. On the wall hung photos of all the places she had visited, and after some time the desire grew in the ball of yarn to travel and see the world.

One day when the old woman was out, the ball of yarn decided to begin its journey. It wiggled and hopped until it fell out of the basket, and then it bounced and rolled...

Accross the room

Under the table

Over the dog

Down the hallway

Past the cat

And through the pet door, out into the yard where the sun shone and made all the colours of the sunset sparkle. Out the ball of yarn flew...

Into the garden

Around the tree

Accross the grass

Out the gate

Into the street, and...

FWHOOSH!

The ball of yarn had completely unrolled itself, and the end of it lay in the street just out of reach of the passing tires.

Later when the old woman came home, she shook her head, picked up the end of the yarn, and started winding it back up. She wound through the gate, accross the grass, around the tree, into the garden, and through the pet door, where she had to untangle the cat. Then she wound up the hallway, over the dog, under the table, and accross the room. She placed the ball of yarn back into the basket, and she sat down in her rocking chair and began to knit.

The old woman knit the ball of yarn into a lovely, soft scarf all the colours of a sunset. And whenever she travelled, she wore the sunset scarf. So after all, the ball of yarn got its wish.

Yeah ok this is pretty random. But now I want to see it.

Chatting with my chum--she gives me some of the best ideas.

Oh, tell me about that thing...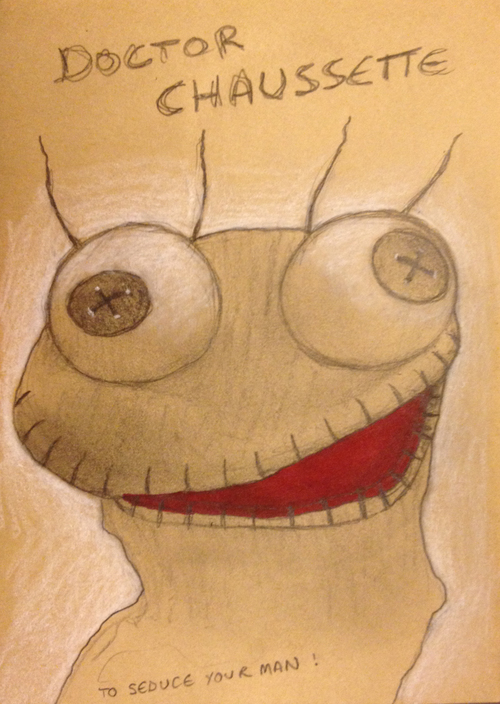 In response to Louve's challenge to draw the sexy grandmother handmade sock Dr. Chaussette.
Thanks for the challenge, Louve!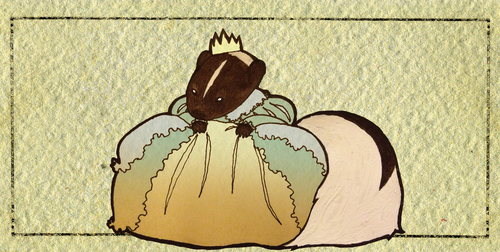 The skunk prayed she'd find her prince one day.
But sadly, her aroma drove everyone away. ~Sinnamin
This is in response to tootwofoursquare's challenge "I challenge you to peruse the "Wreckage" collab and illustrate a tiny story, poem, or whatever you'd like! Have fun!"
Thanks for the challenge, tootwofoursquare!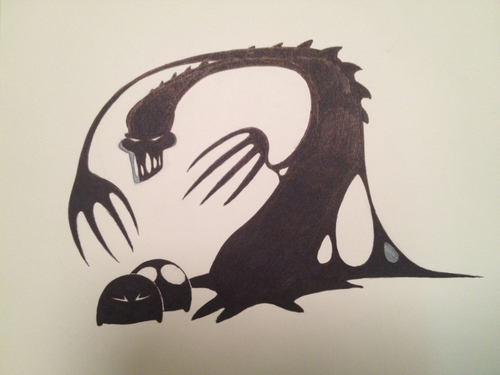 Just a doodle. I wanted to draw Kubi's Tenebrae, he's a cool character. Kept it mostly the same, made some slight alterations and added ooze. I like ooze.
Thanks Kubi!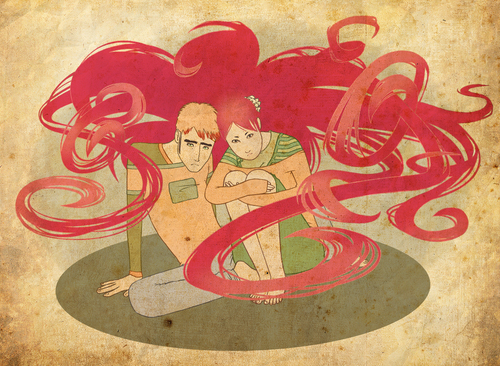 I'm pretty well done uploading stuff I made PRE-hitRECord. Don't know if anyone can do anything with these oldies but they may as well be here.
I just really wanted to draw some hair.