CALLING ALL ARTISTS: COME MAKE ART w/ US RE: "MY FAVORITE THINGS!"
You may have heard that I wrote and directed the upcoming movie "DON JON." It's a comedy about this guy named Jon who is very into his things - his car, apartment, body, and the women in his life that he treats like objects on a shelf. I want us all to make art regarding the theme "MY FAVORITE THINGS."
For instance, ask yourself: What are your favorite things? Can you truly love a thing? Can people be considered 'things?' Do our favorite things define us?
I've had this movie in my head for so long now, I'm really curious to see what kind of stuff it inspires us to make together.
==
You can contribute to the Collaboration here: http://www.hitrecord.org/collaborations/7347
==
Here's how you can contribute to this collaboration:
EVERYONE: Grab a camera and tell us what your favorite things are, and why.
WRITERS: Write a story or script regarding this theme.
ILLUSTRATORS & GRAPHIC DESIGNERS: Draw visuals or remix image resources on the site regarding this theme.
MUSICIANS: Make a song regarding this theme.
FILMMAKERS & VIDEO EDITORS: Shoot footage or cut together resources into Short Films regarding this theme.
==
Also, this is cool, you can download a zip file of the "DON JON" trailer, with the music taken off for editing purposes here: http://www.hitrecord.org/records/1313741. Resource it in what you make!
==
Thanks again <3
J
FCP by Dr. Gory

The sans-serif font turned down the pixel font's offer of a drink without the slightest hesitation.

"I know your type," she sniffed.

Death asked me to play poker one day
I daren't say no and we started to play
He cheated throughout and then went all in
What else could I do but let him win?


| | | |
| --- | --- | --- |
| | The Elephant just knew everyone in the room was dying to talk about him. | |
| | | |
•
1433 Hits
•
82 Recommends

Amber (ADH) challenged me to do a paper cut of a monster of my choice from her Monster City collab.
I chose MelonBerri's Mokupoku :)
I had SO much fun with this..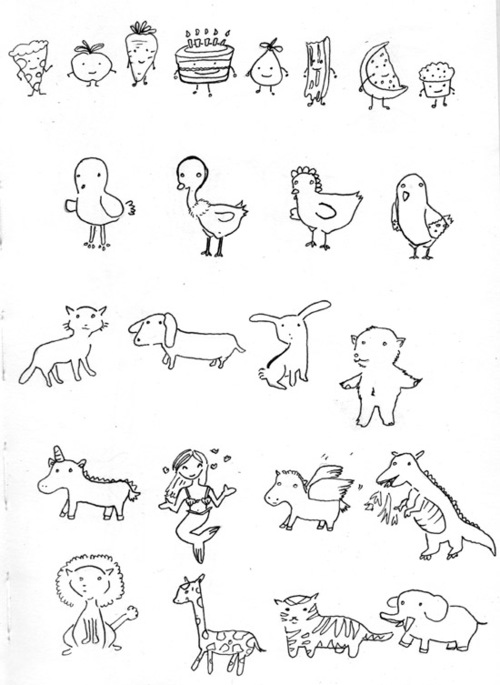 Inspired by chopsticksroad's 'The Weird Community' I thought I would draw some tiny characters that could be remixed into tiny stories or anything else :)

Audio
Update Required
To play the media you will need to either update your browser to a recent version or update your
Flash plugin
.
So here's a song I wrote as a Valentine's day gift for Yiling (you should check it out, this song makes more sense if you see it...). It's based on her wonderful drawings! :) (in 28 of them actually, so I'm not going to add them all here I'm sorry, but check out Yiling's page! http://hitrecord.org/users/Yiling) I was asked to put just the song here separately... so enjoy!
Lyrics:
Ain't it strange how the time flies
It feels like it was yesterday when I was a child
Back then when I could close my eyes and find
A whole new world inside my mind
I had whales in my bed and a bird nest on my head
And the sun was my air balloon
And my toy giraffe
Could talk and walk
And the trees were my friends too
Ain't it strange
But back then it wasn't strange at all...

But then came the time to grow up and face my fears
I learned some new laws and cried a few tears
And so a big part of those worlds that I had
(was) were gone and I thought I'd never see (it) them again
But then I found you and your beautiful drawings
I must admit I was quite inspired
You must believe it's trueall the worlds that were lost
Came back to my mind
Ain't it strange?
Then again, it's not that strange at all...
-
<3 Peppina

"Just what the hell do you think you're doing?"

"I trying on my new pair of men's panties. Don't I look hot in pink?"

"Men's panties? Those don't exist."

"Don't hate."

"Now look, I have no problem with you prancing aroud in anything you want, but don't call them men's panties. Panties are made for women. Everyone knows that. It doesn't say women's panties on the tags when you buy them because everybody knows they are made for women!"

"Aren't I a man?"

"As far as I know."

"And aren't I the owner of these panties?"

"That seems to be the case."

"Well then, if I am a man and these are my panties, that makes them men's panties, doesn't it?"

"You should be a lawyer."