Released
The writing part of the necklace is in sterling silver wire, hand bended, with a red heart bead (glass). I couldn't find a chain I loved at the local bead store, but I kind of like the idea of it looking like a functional chain, like you are binding the message to your person... I've also uploaded some more pictures of the necklace as results...
This is my first time doing true video editing... so applogies? I'm hoping I managed to communicate some of the magic that is making stained glass. There's stop motion! I would most definitely welcome any ideas to make it more interesting/remixes. Hope you enjoy!
•
14762 Hits
•
105 Recommends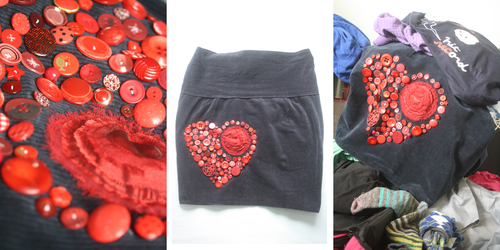 mostly vintage buttons (a hitRECord pin snuck it's way on there too, as did several buttons of hR symbols I made out of shrink plastic, and the big circle is several layers of sheer red fabrics I sewed together). I also designed and sewed the skirt (stretchy corduroy).
The pics were taken by my friend deb, who I am trying to get to join hR:)
•
1448 Hits
•
61 Recommends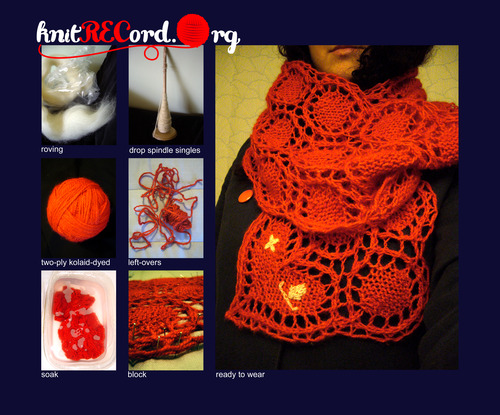 This time I spun and dyed my own yarn (kolaid 3:1:1/8 cherry:strawberry:grape somehow is almost identical to the rec button colour on a cream coloured base yarn). The main part of the scarf is a modified version of the sunspot stitch (from one of the Barbara Walker stitch treasuries) – it knits up a lot faster than v1 cause it's worsted/aran weight on size 8 needles and has a repeating stitch pattern.
And this pattern shouldn't be that difficult to write up if anyone is interested in making their own... please let me know and I will do that and add it as a result:)
I'm still debating embroidering "hitRECord" with one letter in each circle... but I think I might leave it as it is to be more subtle... or maybe knit it again without the heart and then do that...
•
1072 Hits
•
77 Recommends
I was slightly frustrated with the line of yarn going across the text for the knitting version, but couldn't figure out how to fix that using knitting so I decided to go with crochet (which I hadn't done beyond the edging of a sweater since I was about 7) and then I tried moving the camera (first attempt doing that in stop motion – it sort of worked?) and there were beads and things...
thanks hitrecord, for encouraging me to (re)learn new skills:)
and again thanks to crispyfuller for the idea and cacheth for the yarn:)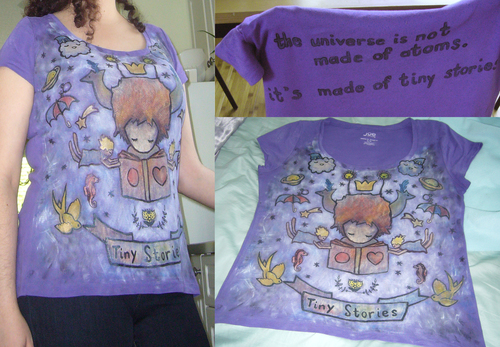 Considering the number of colours and shading, I figured the likelihood of this being made into a t-shirt for the store is slim... but I wanted one. So took matters into my own hands with fabric pastel and fabric paint, free-hand:)
•
1105 Hits
•
46 Recommends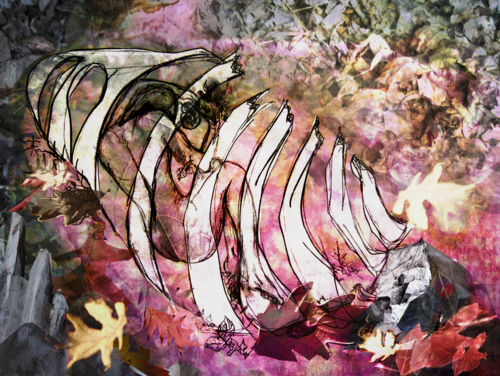 pencil then photoshop... (again, I've been listening too the lovely, lovely song and then this is the image that translates - I'm so glad I'm hearing in pictures again. this is different than the first image in my head, which was more collage-like and a person made of leaves disintegrating, I wish I (or someone else) could realize that one...)
•
1945 Hits
•
73 Recommends