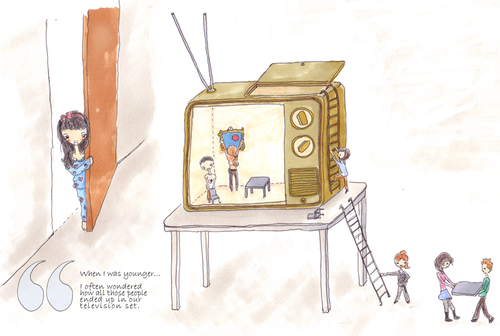 This was so much fun to draw. And yes, that is Regu.. eh LittleJoe in the TV and of course they have a picture with a rec button. Very modern for those tiny people i'd say.
And little Fraeulein, who wrote the tiny story, is peeking through the door:)

<3
•
5843 Hits
•
197 Recommends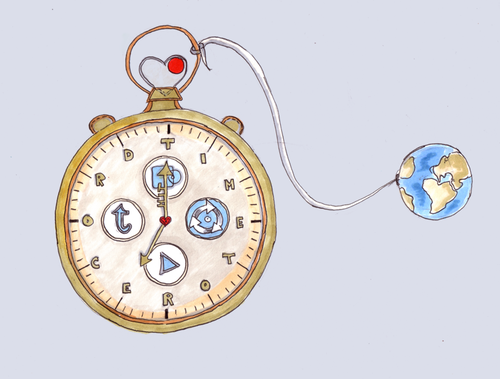 I am happy i found this website, i love the idea to connect via art <3

The REClock idea is really cute so i had to make my own version of it

•
2428 Hits
•
95 Recommends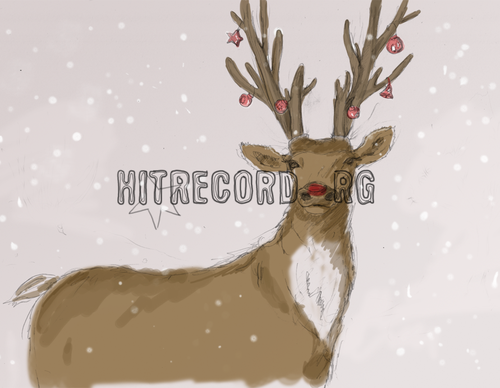 I had this image in my mind the last few days though i am sure i am not the only one who thought that 'Rudolph's' red nose could be used as the 'o' in the logo but i still had to draw it even if it isn't toooo original. I made another version that i want to use as a christmas card this year :)
•
2312 Hits
•
83 Recommends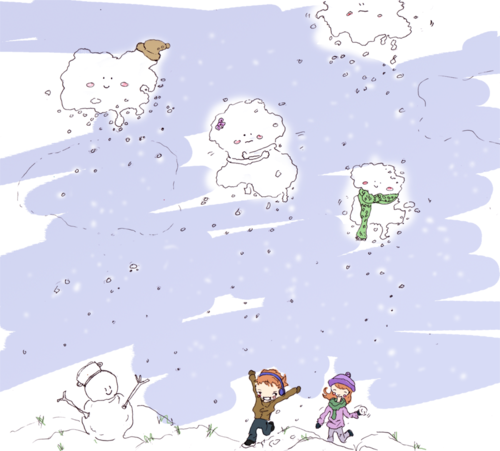 For InkedCanvas tiny story 'Snow'

'when the sky gets too cold, clouds begin to shiver and tiny bits of them fall to the world below..

we call it snow.'

Some clouds are more happy with the cold than others it seems.

<3
•
1343 Hits
•
55 Recommends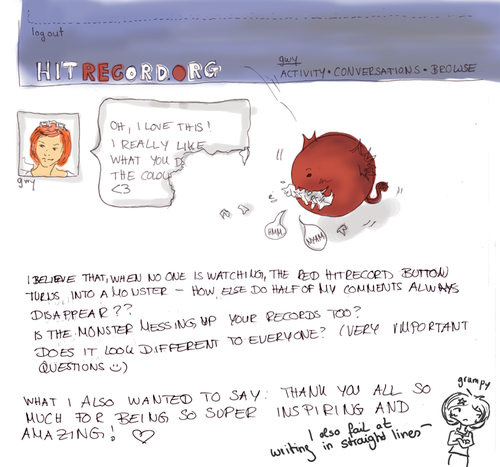 Seriously, whenever i want to post a comment and hit the 'record'-button, half of my comments vanish somewhere. D:

i realise this is a very sketchy picture but but. BUT I had to tell you about it! I am afraid of the monster doing any more haaarm.

<3
•
1840 Hits
•
74 Recommends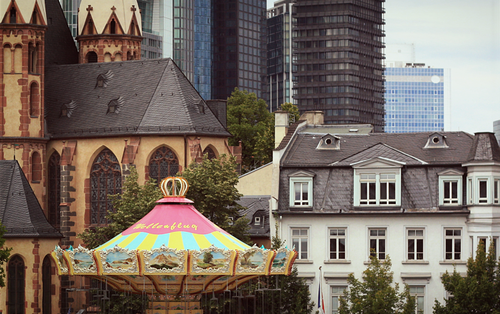 for the cities-collab:

I come from a very small town with nothing but fields around and even though that has it's appeal as well sometimes (silence, green, places without people...), i am glad i moved to the city two years ago.

Because there is so much: Beautyful things, ugly things, small things, big things, art in every form, people from everywhere...
It's not always nice or pretty but it's ALWAYS interesting and there is so so much to see and explore. I love it so much <3.

The buildings in this picture show the different feellings i have while walking through the city.
•
1053 Hits
•
31 Recommends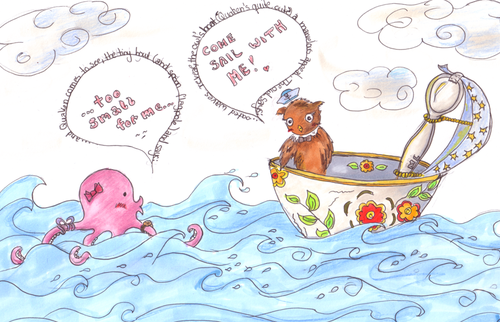 Actually, i wanted to try and figure out how to animate something and i thought this was a super cute idea to learn a bit more about animation BUT then i drew and drew and added some details and then parts of the wonderful text written by atlas and coloured it and gone was my time and movitation to animate it. Instead it ended up being a picture.

I realise it is the same as Soupy's, only in a different style but uh, those two are really cute and i'd love to see them go on adventures together! Maybe someone is going to write more stories for them?

<3
•
1499 Hits
•
37 Recommends
Ruffedges took pictures of a little monster (i love monsters!) in scotland and i thought i could make the monster visit my town, so it is on a holiday in Frankfurt right now! :D
(I wish i could switch places with the monster and go to scotland though because i miss it)

I admit i left some details of the houses out because omg this took me so long to draw already, but there is a place that looks like this in my town. :)

HAPPY HOLIDAYS RUFFEDGES AND EVERYONE ELSE <3
•
1554 Hits
•
55 Recommends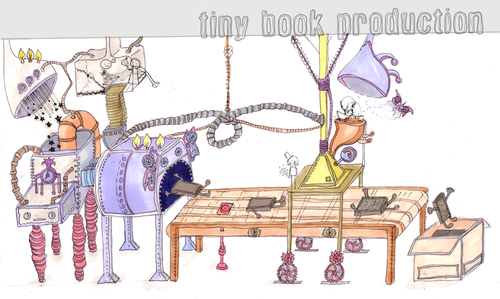 After Fraeulein started the 'tiny journey'- Collaboration, MoiSanom talked to me about the tiny books and their journey around the world and her ideas and we quickly agreed that they'd probably be produced in a factory that is a bit steam-punkish looking and she basically asked me to draw it (and helped me with sending me lots inspirational pictures! Thanks, love). It took me a while but here it is :D
I realise it might be bit colourful but i got new Copics for christmas that i had to test!
My steampunk research ended up with me:
- finding interesting things (steampunk computers! People actually build them for real! :D)
- reading an online steampunk magazine
- buying jewellery (i know, what?)
- rewatching Edward Scissorhands
That was fun :D
HAPPY NEW YEAR; EVERYONE ♥
•
4751 Hits
•
157 Recommends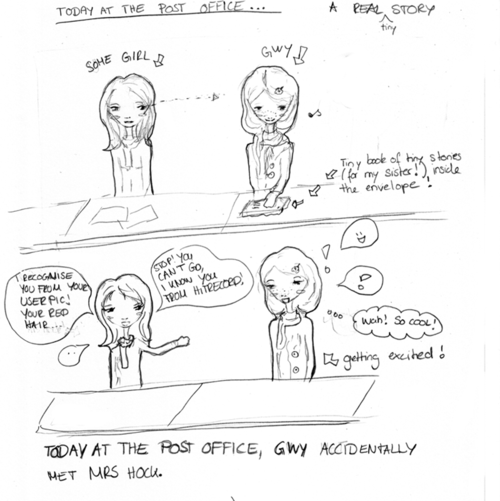 I got so excited (but it was also a 'ahaha omg what, how do things like this happen in RL?'-moment)! And started babbling around because i felt a bit giddy. :D
Mrs Hock and I were on the run though so we just exchanged numbers and we are going to meet up again for a coffee.
♥ YAY hitrecord!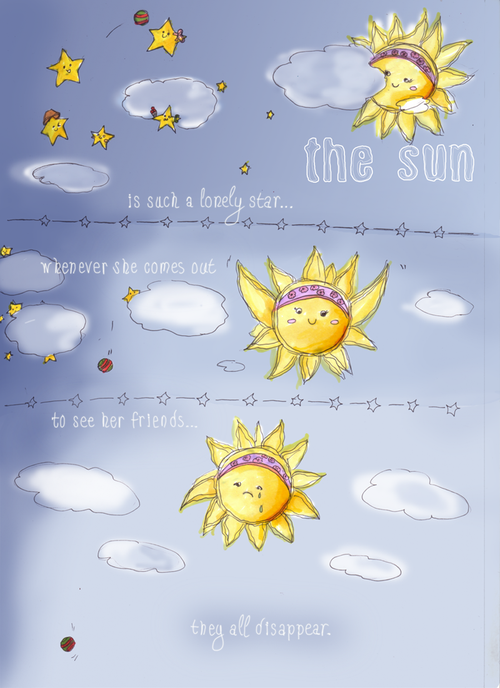 For KarizzMarie's adorable tiny story.
I only changed the sun to 'she' and not 'he' because for me (and in my language), the sun is female :)
Aww i feel so sorry for the poor sun now D: *cries*
I just saw that there are still pencil lines visible, i editet this on my laptop and it seems the contrast on my laptop is very bright D: *fail*
♥
•
3372 Hits
•
147 Recommends