Released
Audio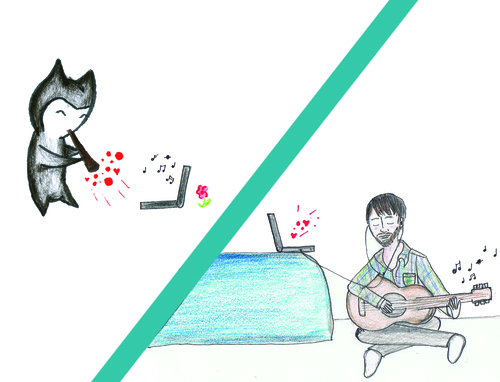 No Borders [Beat 714 REmix]
Update Required
To play the media you will need to either update your browser to a recent version or update your
Flash plugin
.
as soon as i posted Beat 714 i began work on finding a lyrical/melodic idea that could work for it. i imagined something like a hip-hop/soul flow for it.
I searched through KamPaign's HitRECord Hip-Hop collection and found RayPerez's "Let's Finish This" RECord and put them together.
I really liked the lyric of there being "no borders between HitRECorders" so I made that the refrain.
I contacted and collaborated in correspondence with mr ray perez on creating new lyrics with this theme in mind.
in the meantime, I really liked what AboutGeorgia and Jay-9 contributed to the beat, and i added them into the mix.
somewhere along the line, i got inspired to write a rap verse and even took the mic for it on the RECording
(my first ever "rap" please don't judge me i'm just trying to laugh while my ass gets down)
now this ain't no final version. if you feel like adding some flow or singing to this, do it! let's get some more voices on this.
*coRegularJoeugh!*
'scuse me.
;)
a very very very big thanks to mr. ray perez for the awesome collaboration, and to aboutgeorgia and jay-9 for singing along :) <3
There ain't no borders between HitRECorders.
<3 RJ
*This is a STEREO RECording*