San Antonio, 2007.
Audio
Update Required
To play the media you will need to either update your browser to a recent version or update your
Flash plugin
.



Another literature class assignment. This time we had to write a love letter. Since I've never been in love, and I don't let people tell me what they think love is, this is all I could come up with. My friend says that because I've never experienced it I can shape it what I want, the way I want it.

This one feels different when I listen to it than when I read it though.

Text:
"I'm on a train, sitting next to the window. The landscape outside is beautiful, and Sofia is sleeping. It looks like nowadays nobody travels anymore, they're all too busy running to not be late, they don't take deep breaths anymore. It's just the two of us in this carriage. But I don't complain. I like the quiet peace, and the silence that is only broken by the sound of our daughter breathing. Maybe, and most likely, when you read this, we'll be home, having a coffee with Josephine, talking about good old times, looking at photo albums.

It gets cold in our bed without you. It's sad to turn around and not crash with you, with your body, your smell and your smile. Sometimes Sofia sleeps with me. Sofia, who keeps growing and growing, and with signs and words in her language asks me to put a Bob Dylan record on. It reminds her of you. It reminds me of you...

I remember when we met, we were wearing the same Beatles shirt. Now, Sofia wears mine as a dress and I wear yours, and sometimes, without planning it, we wear it the same day.

She's got your eyes, your nose... your hair. She's beautiful. Your mom and your dad always tell her she looks just like you. And she's always quiet when they tell her stories about you. You can tell she really listens to them and plays them in her little head. She closes her eyes sometimes and it's like if she could see you, feel you...

I'm sitting next to the window. I see your face reflected on the glass. I feel your smell on me. Your lips kissing every inch of me and your hands intertwined with mine. I can hear your voice calling me, singing to me.

I need you, and I love you. Sometimes one more than the other, but they always end up mixing, to the point that they're so alike they might be the same.

Sofia says hi, in her language, and she sends you a drawing she made with her little hands.

Come back soon, please..."

Still a work in progress because I'm thinking about adding the Text logo and the other logos, or another logo, or any logo.

But of course! I couldn't stay behind and not contribute a handmade design for this collab :D so here it is!

Looook! I just found this font :)
(Note: Here's something I've been working on this whole week, with the permission of Sarasota. It's a long piece. I really enjoyed writing it and I hope you like it, especially Sarasota since this is about him. I didn't really show him drafts or stuff like that, so this will all come like a big long surprise for him. So, SURPRISE! I finished it! and here it is!)



I'm at Starbucks, drinking a Mocha, just sitting here outside with my sunglasses on. My notebook and pen are on the table, waiting, just as anxious as myself.

Just so you know, Justin is not late. It's just my habit of being where I have to be a few minutes earlier. In this particular case, I left more than a few minutes earlier because I had to get a new notebook, since my last one was already full of scribbling.

A cheerful "Deeeeeeee!" comes from behind me and I stand up to greet Justin Crowell, whom you may know as the man behind Sarasota. Yes, it's only one man. It may sound hard to believe when you listen to the first songs of Things Alive, but after a while you remember how advanced technology is by now and then it all makes perfect sense. "Am I late?" is the first thing he asks. We walk inside to get his coffee, and I get my journalist mode on. "I'm the one who asks the questions here, sir" I point out, dramatically, and continue with a smile "talk all you want, I'm a fast scribbler and owner of an eidetic memory".

The story behind Justin Crowell as a musician starts at the sweet age of four, when he used to pretend to perform music strumming a tennis racket or singing into a hockey stick… as many of us did too,...
Continue Reading
18
18 Records

When the creative director gives you an idea for a tootbrush, what else can you say other than aye aye captain and get to it?

(Or, you can also take this as: THE HITRECORD TOOTBRUSH! Tired of your teeth just being in your mouth chewing? Try THE HITRECORD TOOTBRUSH and they will start RECording as soon as you use it! It's safe, it's clean, it's HITRECORD!)

Yay!! I got my own just now :D

Oil on skin.

They're all over my face.
Audio
Update Required
To play the media you will need to either update your browser to a recent version or update your
Flash plugin
.

I've written another lullaby! I'm becoming sort of an expert on writing and singing lullabies, I think. I'm planning on buying a microphone, actually. So, who knows! Maybe I'll end up having my own album of lullabies :)

"I wish my eyes were blue
So you could sing this tune
With me while we pass by that dune
Walking back to the moon.

I wish my hair was red
So you could use it as a net
To catch your hopes and keep them close
While we go back home.

I wish I had eight arms
So I could have you with me all night
And use them to make dinner for you
While the sun rises up.

Though I'm nothing but a snail
Don't you never dare to say
I wouldn't sing to you
Because this song is just for you."

I'm always talking about her but now I have a picture of her :)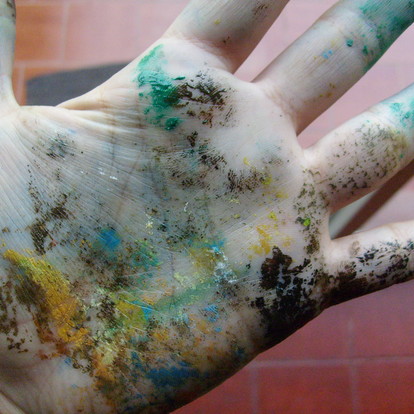 8 Records