Released
There was once a young girl

who wore not but a frown

told again and again

to turn it upside down.




So one day she did it

using stitches and pins

she twisted her frown

til it looked like a grin.




She asked if they were happy

or if they thought it looked bad

if the liked what they saw

or if she'd overshot just a tad.




But no one would answer

indeed, they were scared

of her freakish mouth twitching

as she talked and they stared.




She covered her face as she wept

knowing her looks were vile

her smile wanting to frown

but frown wanting to smile.




So with no one to see

and no one to show

she let her skin free

let her ugly pout grow.




She had started to walk

trying to get lost

when a black cat came and kissed her

as if she wasn't a lost cause.




Then an odd thing happened

a smile strange as when knit!

It would never fit in

But she didn't mind it one bit.
and so she fell into the stars
black hair against the black sky
until she disappeared completely
in the darkness of the night.
•
1144 Hits
•
86 Recommends
HONK.

HONK HONK HOOOOOOOOONK.

What a strange girl, the passerby thought. Are those horns on her feet? No wait, the horns are her feet! And a, a trumpet neck? Why, the poor girl's made out of instruments! What a pity. A terribly loud, cacophonous pity.

She couldn't hear these thoughts, but she saw them on the faces of everyone she passed by. Most said pity, some said revulsion, and a few even covered their ears. It's true, she did make an awful racket. But that wasn't her fault. Every limb, every digit was designed to make noise. It couldn't be helped.

But what they didn't know was that when she was happy, when she felt safe, she could make the most beautiful, beautiful music. If only they cared to listen.
•
2102 Hits
•
83 Recommends
i want to hold your hand

but i've painted myself invisible

and i don't want it to rub off on you.
•
1094 Hits
•
48 Recommends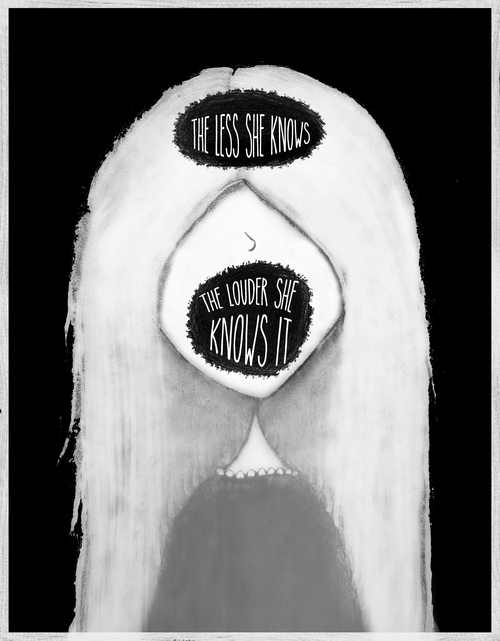 i swear, everything i do these days is a remix! (not that im complaining)


this took a HELL OF A LONG TIME BUT


i'm really happy with it. and anyway,


time's for recordin' <3


•
2382 Hits
•
109 Recommends
Shame. It was all he could feel. It wasn't right for him to keep her here when she could go anywhere. He was stuck, she was not. But still, day after day, he couldn't work up the courage to tell her. He couldn't part with the comfort of comraderie: her stories from the skies, her sweet melodies. Of course, she ran out of songs and stories after a while. But he didn't mind. The occasional chirp or creak of a rusty hinge was a thousand times better than the silence of loneliness. But then, every once and awhile she'd ruffle her feathers, itching to see the world. Then the shame started to creep in, the shame that was almost as bad as the silence. He was so selfish. He loved her so much. Love. Shame. Love. One day, he buckled under its weight.

"Go," he said in a small voice, "get off." He tried to shake her off, but he could barely move and she wouldn't budge.

"What? No, I'm not leaving you."

"I said get off." He forced his decaying body to wobble, successfully disrupting the balance she'd maintained for so long. She batted her wings, but remained.

"No! I won't leave you here to die alone!"

"I'm not dying. My shoulder's just getting tired, that's all." He tried to laugh, but couldn't. He managed a smile, though. "This isn't goodbye. Learn new songs, watch new stories. And then come back and tell them to me."

She carefully hovered an inch above his shoulder. "I will. I'll come back, I promise."

"I know you will."

And so she left, a bit of rust clinging to her feet that she'd keep to remind her to return one day.

And so he watched her leave, the imprints of her feet already gathering a thin coat of dust, knowing she wouldn't.
•
1029 Hits
•
36 Recommends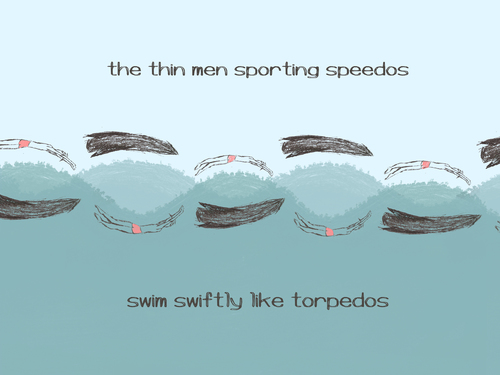 Ann Marie challenged me to illustrate Joerud's sweet little tiny story. Despite my life-long struggle with my inability to draw, I'm actually really happy with how this turned out. Wooo, last challenge completed!! Thanks for the challenges guys, I had a lot of fun doin em :)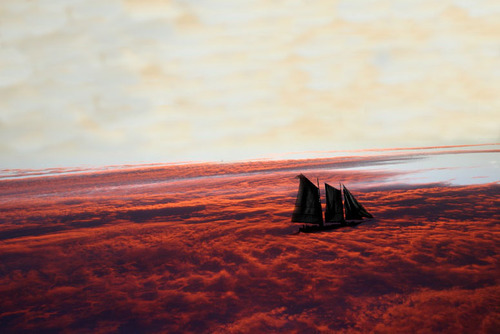 •
3641 Hits
•
177 Recommends
| | | |
| --- | --- | --- |
| | Am I trash? Damn fuckin' straight I'm trash. And proud of it. See what you don- oh for fuck's sake, just stare already. I can see you glancing all over the place. Go right a-fuckin'-head and look at me - look at my stub of an eraser, my chipped paint, the last letter of the label on my two-inch body, I ain't ashamed. What you don't understand is that I'm fuckin' proud to be this way. I love being trash, unlike the rest of you idiots since apparently I'm the only one gets what bein' trash really means. You see them other guys around the dump, with their long bodies and sharp points and and their paint that don't even got a bite mark on it and how fuckin' stiff they are, like they're fuckin' smug about how they're so goddamn pristine. Pricks. They don't deserve to be called trash, but they're such goddamn idiots they think that that's a good thing. They love lookin' like they day they came out of the box, all new-like and never-been-used-like. Well I got news for you bastards. Bein' used ain't the same as bein' useless. And bein' wasted ain't the same as bein' trash. You look at my body and think I'm decaying, that I'm waste. But that's 'cause you're too goddamn stupid to think about why that is. I ain't decaying, 'cause they're ain't nothin' left of me to decay. Before I landed here, I was a fuckin' machine. I wrote more shit than all of y'all combined. I let every single goddamn idea inside me bleed out onto that goddamn paper, until there wasn't anything left. And yeah pullin' shit like wore on me - I had to erase dead ends of stories and use up lead crossin' out misspellings and sit in sweaty hands that clenched so hard I got dents all over the place, but it was fuckin' worth it. 'Cause you know what that's called? Livin'. It's called usin' everything you got until last goddamn second of your life. I fuckin' earned the right to be called trash. How many of you can say that? | |
| | | |