Released
Audio
time taling (attilees voice & music)
Update Required
To play the media you will need to either update your browser to a recent version or update your
Flash plugin
.
probs needs some editing to gett the noise out.
thank you attilee!
headed towards a video maybe?
<3



1:23 counting my blessings

3:65 missing you

5:43 slowly regressing

11:11 wishing you

at 00 i'll start anew
•
1335 Hits
•
24 Recommends
thank you so much attilee for the voice over and the tips!
thank you resourcess, without yall..nothing would exist =D
i hope these haunted records have monstered hitrecord out
<3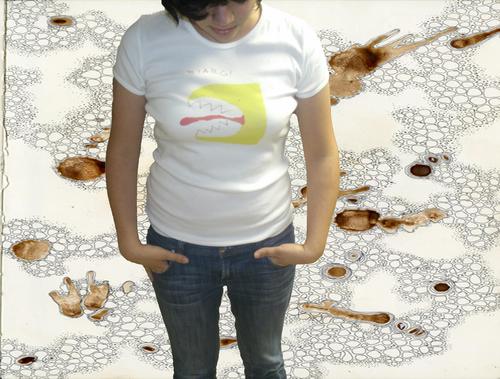 around xmas time, attilee (drew) and colored in my favorite monsterr, and posted it up here. as soon as i saw it, i KNEW it had to be on a shirt so that's what i did! i got it in the mail a few days ago and i'm soooo HAPPY it turned out perfect.
so this is me modeling this shirt. don't be jealous of the modeling skills. i'd teach you but i'd have to charge haha
THANK YOU resource for the background & attilee again for the awesomeness!
oh happy dayz <3
ahhh what to say about this homieee.
imma dork her up a bit and say that she works really really hard on every one of her records. her collaborations have been fun hits. she started up tinychat for us, which has brought a bunch of hitrecorders together everyday. and she's one of the first friends i made on here!

(p.s. your xmas gift is this. glorifying you. haha)

she's just pure awesome.
so, she deserves this. <3

lol raw footage of crispy. GET IT.
gift from crispy and I to @@! we loveee you!!!
guess who voiced it? lol
youre the bestestestest!
<3
once upon a time,
i found hitrecord.
i stayed here for a while, then found other addictions.
i came back. one of my greatest decisions this year.
i learned so much from everyone, so much that i can't even put into words.
i learned a lot about myself through everyone, through my work. through your work. I've expanded my interests in art and the like.

i've also met some amazing people.
this is...my way for saying merry days to you all, everyone, forever and ever until infinity and beyond!

thank you so much metaphorest for your dedication to this site and everything you've ever inspired in people, keep it up.

layla, you've got one of the most kindest hearts, and i don't know how you do what you do but, rock on!

thank you filmpunk for this amazing collaboration that has brought everyone together in a shared holiday, a shared feeling.

now, i dont know if you've clicked play yet, but if you have: i'm sorry i didnt tell you in advance that your Cheesydar would go off a whole lot in the beginning (i tried to make it legit sing along/karaoke style) haha. if you haven't, cue cheesy!

thank you to all those (attilee, phenomenaaa, moisanom, hopeimnotmissinganyone) that encouraged & advised me throughouttt creating this record!

safe and sound, all <3
happy holidays to you and yours,
i hope next year is full of open doors,
wishing merriment keeps you safe and sound,
and that good tidings will be found!



[about above poem, haha i tried! Hope you enjoy this. around 180 images of yours in another bigger picture of yours! program credit to MosaicCreator.

take care, best wishes!]


=D
after several hours, I think i got this somewhere around where i wanted it to be.
thank you so much for the feedback.
i added more people after being inspired to play around with things.
Thanks again,
<3
•
1099 Hits
•
40 Recommends
Hi.
I haven't made a real record in a while.
So here it goes.

For the holidays, something heart-warming.

Matt's video is a bit blurry, but he was the mastermind in this so he had to be included. If there's a way I can get a good quality .wmv, .avi, .mpeg file of it, i'll gladly redo it. Some videos weren't added because the volume was too low, it was all slideshows, etc. Again, remixxx is alwayss possible!

Please get inspired. By the littlest thing. Just do it.
Thank you to all the resources and the gorgeous music by pasiv!


(revised: http://hitrecord.org/records/289925)
<3 always
yo so hi.
i don't know how to draw, but i'll embarass myself for you.
i can video edit.
i gots a mic.
i have a webcam/camera.
i guess i can sorta write.
i can't animate.

ill eat eat something off the floor long past the whatever second rule.
i'm downnnnnnn for basically anything.

I asked my caretaker where I came from, she said, "You came from two tiny stories who loved each other very very much." I wish I could meet those tiny stories.

<3
We go about our lives giving reasons for our actions, sentiment to our words, rationalizing our wrongs, reminiscing our gones.
In reality, our real world, each utterance, each cycle, every pace, iterates that we are nothing other than alive.