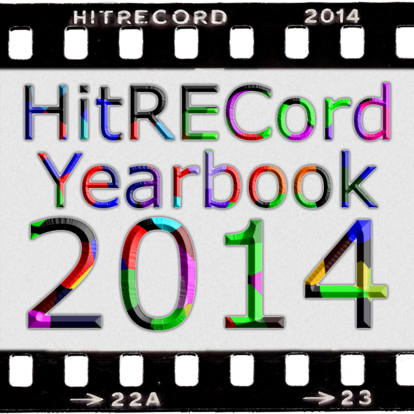 Request List:
Photography

Upload a current photo of you (without the template)

Other photos (for backgrounds, etc.)

Graphic Design

Upload an edited photo of you (with the template or other additions)

Images & designs for pages, sections, etc.

TEMPLATES! You have a template we can use?

Illustration

Drawings & doodles for pages, sections, etc.

Q&As

Lists of questions to be answered

Answers to the Q&As

Video Editing

Everything related to video yearbooks

Other

Any other things that may be useful to create the yearbook
82 Contributions
Released ago
Since I couldn't make the yearbook 2012 (maybe someday I will finish it, if you want), I'm starting the HitRECord Yearbook - 2014 collab! This time, I promise that I will create something with all the pictures and questions, at least in PDF format!
What is needed:
1. A current photo of you: One per user and pictures from this year (if possible) in color or black and white.
Depending on your image editing skills, you can upload your photo unretouched (I can edit it for you)…
23 Contributions
There is no right way to ask what year it is.
I know, it might sound strange to you that I find it strange that I can't go around asking "what year is it?" without getting a few weird looks or an ironic reply. If it does sound strange it's because I assumed again that I'm in the future of the human race. But no, it seems like I've arrived just in time to see another everyday of the boring era you live in.
Let me explain, since I have nothing else to do while I recharge my transport with some solar power. Yes, this is a transportation...
3 Items
17 Contributions
75 Items
22 Contributions
26 Items