Released
It's tuesday, 87 degrees and it's only 11:25 so it's only going to get hotter. Yesterday she said she would sweep today. Her parents decided she could do it while they're at work, because it's summer and she doesn't have any friends in her hometown and she has nothing to do. The floors have gotten dusty, though.

She walks barefoot across the laminate - almost looks like wood, gets just as dirty. Has to wipe the bottoms of her feet on the bottom of the couch before tucking them up under her body. She curls up against the armrest, awake for only 33 minutes and already tired, and turns on the TV.

Her glass of coffee - iced, from the pitcher cooling in the fridge that she's constantly adding more coffee to - is already sweating. Just like her.

Fifteen minutes spent browsing On Demand for something that sparks her interest leaves her feeling the need to get up and do something productive. She could sweep. Instead, she wanders around the kitchen, refills her coffee, then takes a peach from the grocery store bag all the peaches are still sitting in, just brought home from the grocery store the night before.

She'd offered to do the groceries. She could bike the five miles to and from the store easily, fit as much as she can into her basket and backpack. She'd offered, and her mom had said she didn't have to. She turned down the offer and then came home laden with groceries and complaining about having to do the shopping.

The peach and the coffee leave her feeling fulfilled enough for the present. She knows it won't last, but it will do for now. In such extreme cases of boredom, all joys are fleeting.

She settles for an episode of a show that she's already seen three times before. She's seen every episode of the show at least three times. Only six episodes are available that week, so she watches them all, licking peach juice off her hand. She licks the fuzzy skin of the peach too, before she bites it. She'll lick every inch of the peach, take a bite, and then lick over the parts that have dried.

There's a puddle of water on the table from her coffee. That's not real wood either, so nothing to worry about. She wouldn't have worried even if it was real wood. She wipes it up with the big ball of tissues she's wrapped around the remains of her peach, then leaves the whole thing on the table because it's not something worth getting off the couch for.

By 3, she thinks again that she could sweep the floor. She gets up to throw out the small peach/tissue/water meteor she's just made. It crash-lands into the sink from across the kitchen. She plucks another peach from the satisfyingly crinkly bag.

She walks through the house, across the dusty laminate and out the front door, which she does not lock behind her. The heat hits her like an unexpected pillow to the face, like someone's about to smother her. God it's hot.

Her neighborhood is the kind of suburban dollhouse collection that attracts families, especially parents who work 9 to 5 jobs. That means that when she walks out into the street at 3pm, she feels like the last human alive on earth. No one around to tell her off for abandoning the remains of her second peach on someone's lawn - animals will eat it, it will decompose, it's not a problem. No one to tell her to get off her neighbor's tree swing.

The ropes were cut with little regard to the angle of the tree branch to which they were tied, so the swing sits on an uncomfortable angle that makes her butt hurt to sit on it. Still, she pushes away from the ground, kicks her bare feet and swings for a little while anyway because it's a swing and people say it's impossible to be unhappy while you're swinging on a swing.

Apparently, it is possible, and she is living proof.

Except she's not unhappy, not really. She has nothing to be unhappy for. She'll be moving to the city in a few weeks. She has money saved, and can't get into the new rental until the old tenant moves out, so she's waiting at her parents, not paying for anything, not bothering to get a job she'll have to quit in a month. And besides, no workplace that falls within a bike-able distance from her parents' house is worth working at.

She's just in limbo, long past the stage where her every waking moment was spent bubbling over with anticipation. The excitement has worn itself out, and now she's just ready. Bored. Waiting.

She swings until she gets dizzy, then walks across her neighbor's lawns to get back to her house, skittering on tip-toes across the burning hot driveways. The laminate is cool and refreshing on her feet, but she's tracked in dirt and pebbles and she feels like she might have a splinter. She's sweating from the humidity. Everything is uncomfortable.

She takes a cold shower, then leaves wet footprints in her wake as she heads back to the kitchen for another peach.

*

(This was written based on a prompt from Pamagotchi. I had asked for 3 words, which I would then write a short story about. This is the first result.)
Inside the 24-armed machine that made 600 Wirrow masks for the halloween show.
•
1797 Hits
•
112 Recommends
I feel like there is more in this than just the recording. This is my first time even seeing 'a new hevn'. I hadn't even looked at it before this. I wanted it to be NEW, leaving space for the unexpected and unplanned. For example, I didn't expect that single perfect cry-baby tear, but it happened. :) But I trust Metaphorest and Wirrow, and felt like this epic of theirs deserves a first impression.
•
4355 Hits
•
87 Recommends
The song and the movie were made 101 years apart. Isn't in funny how well they work together? This is why I like watching silent films with my own soundtracks. You take some sexy beat, and you set it to Asta Nielsen's sexy dance here, which was actually so sexy, too sexy for 1910, that the original film release censored it completely! It's not too sexy for today, is it? It's just sexy enough, I think, and isn't that all that matters??
Footage is from the film Afgrunden/The Abyss, which is available in the public domain: http://www.archive.org/details/Afgrunden_1910
my workspace. (incentive to clean my desk.)
I love how different it is from when I had to write that French paper...
•
1363 Hits
•
49 Recommends
This was hard to read, mostly because I fucking love coffee.
You can't buy things with your days

because your days cannot be spent.

Your days cannot be borrowed

and your days cannot be lent.

Your days should not be wasted

and especially not ignored.

Your days were made for living

and nothing more.
•
1051 Hits
•
33 Recommends
What if you'd seen

me, stopped your eyes

on mine and thought

deep thoughts about

me, and you wondered

what i'm like, and

if we liked the

same things as

each other?
My oldest friend is coming apart at the seams. Thought I'd try something new.
•
2617 Hits
•
107 Recommends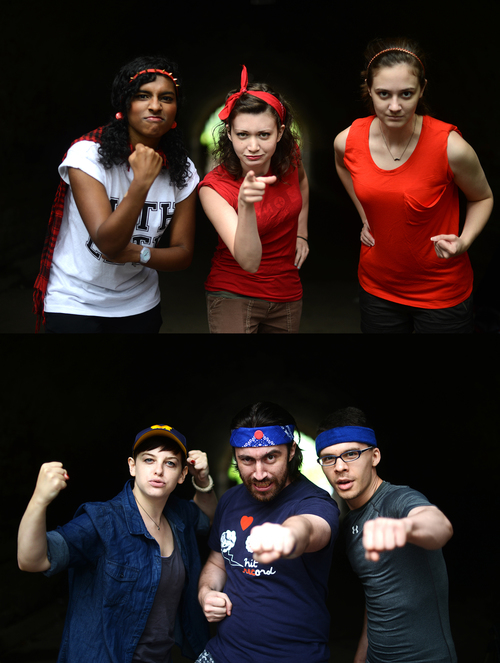 NYC hitrecord proooobably kicked the west coast's butt in terms of innovative athletics today. Footage to come. GET READY. CAN YOU HANDLE THIS??
•
1618 Hits
•
87 Recommends
In which alpal attemps to play a mind game on the boy of her dreams, fails miserably, and is told by karma to suck it. (also, in which alpal actually returns to hitrecord! hoooly crap!)
a serene reversal of falling snow, set to a not so serene but wonderful song. this snow has since melted.
•
2354 Hits
•
98 Recommends