I have been missing my HitRECord family so much! This is from today! A Saturday afternoon Time Lapse from Northern California. Hubby is working in the garden and will be coming up soon to check out his project from the top deck. I'm setting the table for dinner and getting ready for our evening BBQ. I have a chilled Stella waiting for him. Song is Once Upon A Balloon.
Driving from Oakland to San Francisco's North Beach in 30 seconds. Took the top off my car and stuck my Canon out for some old school time lapse action.
Love Malicore's beats.
Time to contribute to my fave community. A city lights/power grid record of downtown San Francisco with sound effects from garage band. Hope you can use it as as a resource.
City lights hyperlapse screnes from San Francisco. Hope it can be used as a good resource.
•
1922 Hits
•
65 Recommends
Here's my conrtibution to the Stars Were Stolen compilation. I've been a stargazer all my life so I was really touched by this story.
I hope this resource comes in handy.
Gorgeous music by tonguecutsparrow.
My first attempt at Stop Motion. My hubby is making me dinner and I'm responsible for
setting the table. Music is Happily Unaware by Peppina.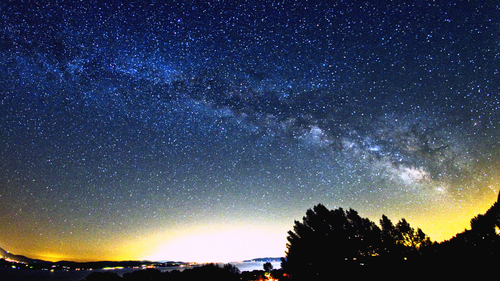 A snapshot of the time lapse I did on 4/20 over Clear Lake, Northern California.
See my vid record for the movie.
Haven't been on for awhile, so I'm missing my HitRECord community.
Here's a timelapse from Clear Lake in Northern California taken on 420 (April 20th) from 3-6am. Hope it will be a great resource.
•
3218 Hits
•
152 Recommends
First capture with the Sony NEX 5N (mixed in After Effects). Regular speed to fast forward, then a blend to b&w w/red.
Audio by Madisen Music's Music in the Crowd.
Hope it can be used as a city/traffic resource.