So this is a random thing I made while learning to use Anime Studio Debut. It is presented in glorious 4:3 Tim-o-vision aspect ratio due to the limitations of the program...
Having tried her way,

the cosmonaut preferred his own way of reaching the heavens.

(OR:

Having tried the Nun's way,

the cosmonaut preferred his own way of reaching the heavens.)

<See resources for picture this is for>
•
5670 Hits
•
38 Recommends
Hesitated even longer to upload this.

This is just me remembering how to animate (haven't done this kind for years) and learning the software I'm using.

Should probably mention that the model is not "dressed" yet and will eventually have hands...
•
1628 Hits
•
45 Recommends
Norman didn't know much, but he new that when dealing with paranormal multidimensional events it was important to wear the right attire.

When he looked at his new assistant he thought about this a lot.

He was not a fan of the shirt.

Many paranormal investigators liked to wear a 'smart casual' denim shirt while recording multi reality events. Norman laughed to himself. Smart Casual. What an oxymoron.

And the alternatives to the Denim weren't much better. Seriously; wearing a full suit and tie for this kind of work is just impractical to the point of idiocy.

He didn't even want to think about the "cargo pants" that were starting to gain favour with the youngsters in the business.

He cringed as he regarded his new assistant who wore Cargo pants.

No, Norman's ensemble was understated, practical and not in any way based on fashion. He wore a black T shirt with a grey polo neck over the top, both of which were 100 % cotton (Synthetic fibres tended to generate static. This interfered with the sensitive monitoring equipment used to detect fluctuations in the space time continuum). With this he wore a pair of tweed trousers. Norman considered tweed to be an underrated material, useful for both comfort and warmth.

As for his boots, they were a pair of cheap hiking boots, not the expensive American sports shoes of his assistant. It was always good to save money where possible. "Look after the pennies and the pounds will take care of themselves" as his late father had told him (during a seance 6 years after he had passed away).

This is what Norman thought about when he looked at his new assistant.

Norman's new assistant didn't know much, but he new Norman was an idiot. When he looked at Norman this was all he thought about.
•
1084 Hits
•
19 Recommends
Here's my take on a news reel style ad for the London gig (which I just happen to be going to).
Due to my hap hazard style of editing please let me know if I have missed you on the resource list.
•
4430 Hits
•
111 Recommends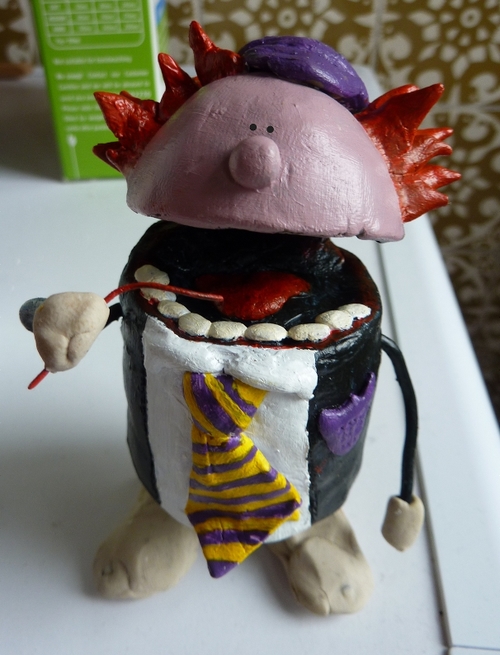 Not quite finished needs proper hands and feet and eyes (those ones are photo shopped)
For stop motion animation.
Ramble ramble. I cut about 1000 'ums' out of this. Also apologies about the facial hair... rushing around preparing for the trip to London - no time to shave!
Higher quality version available if required. footage focusses on shadow as much as anne... good for cutaways maybe?
Shadow only at 5:13
Looks like I cut the bits out with a blunt scalpel blindfolded and then animated it without ever having seen how a bird moves aaaaand should be doing my dissertation but it's a start :)
Looks like I cut the bits out with a blunt scalpel blindfolded and then animated it without ever having seen how a bird moves aaaaand should be doing my dissertation but it's a start :)