Released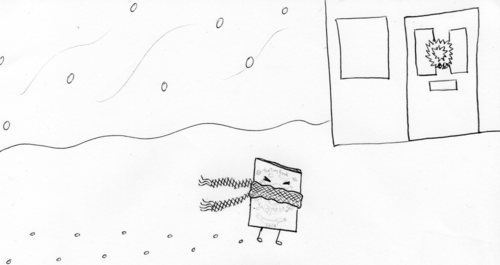 OK so I'm crap at drawing, but this is the picture that came to mind when my Tiny Book finally battled through the post backlog caused by the snow we had over christmas
The more artistic are welcome to improve it!
The first thing that hits you when you get off the plane in Bangkok is a wall of heat and humidity.
You've just spent what felt like a lifetime on an epic, air conditioned flight, trying to distract yourself from the anticipation/excitement/fear of what you're about to do with the enormous amount of "in flight entertainment" on offer.
You're not ready for the heat.
Or the hundreds of people crowded around the arrivals area, holding up cards and shouting random names (or simply "taxi?!)

On arrival it becomes immediately obvious that you're in a foreign country. I know, it should have entered my head sooner than this, what with the months of planning, thousands of pounds spent, and the epic flight involved. But it never really sinks in. You can spend months working and saving money, have endless conversations about your plans, say goodbye to all of your friends and family, but it's never real until you get off that plane. Getting away, travelling, has been a dream and ambition for so long that it has never, until now, been more than a fantasy. You didn't think for a minute that you would ever do it. But here you are, in Bangkok, jet lagged, sweaty, with an already broken backpack (typical), looking at some immense golden statues in the middle of an airport, the likes of which you have never seen before. And you realise. "Oh my god, I really am doing this."
First there were sounds, the muffled sounds of traffic and the distant screech of birds flying overhead. Then there was pain. The blurs her eyes were seeing focussed into an unfamiliar ceiling, and she slowly realised that the pain she was feeling was caused by sharp things underneath where she was sprawled on the floor. Sharp things...glass. Where had that come from? Through the dizzy fuzziness, panic threatened to overwhelm her as she realised that not only had she no recollection of where she was, or how she came to be lying in broken glass in an unfamiliar room, but that she didn't remember anything else either. Not one thing.



I don't really know where to take this next...
1. Who are you and what do you do?

I'm Nicola, I'm from Birmingham in the UK and I'm currently doing a PhD in Biochemistry. I would always say I was a scientist before an artist, but I'm very interested in how science and art can come together. I love using art and visual aids for Public Engagement events in Science, and allowing my enthusiasm for science to get the public interested in what science is all about.


2. What's the origin of your artist name?

Until I picked it for here it was a name used by only two people. I used to work at a live music venue at home where one of my bosses always called me Nic Nic, not sure why! It wasn't long before my best friend there started calling it me too, and it's stuck for those two ever since. Anyway I picked it for here because I wanted something vaguely similar to my real name that wasn't my actual full name, and "Nic" is always taken.


3. What has been your biggest challenge with your art so far?

I love creating things, but I'm not always great at coming up with ideas myself. Give me an idea and I can run with it. That's what I love so much about HitRECord, I get inspiration and ideas from the community, it's perfect for me.


4. Who or what is your biggest influence?

HitRECord, as outlined above!


5. What is your wildest story?

I've got a bit of a mind blank for this question, a lot of people's wild stories usually involve being very drunk and doing something wild, and I guess I'm not really that sort of person. I'm the laid back go-with-the-flow type, and usually the one laughing at other people's drunken antics! So I'm going to write a little list about some "wild" things that I've experienced instead:

• I ate raw horse in Japan (yes, it was pretty nice and no, it didn't taste like chicken!)
• An impromptu house party I was once at involved someone falling through the roof into the bathroom
• I just flew out to Malaysia by myself for a couple of weeks, to meet a couple of friends who are travelling for a year
• I've partied with the Kings of Leon at one of their aftershow parties. I was a bit too star struck to say anything to them (still regret it)
• Er...I went travelling around SE Asia and Australia for four months in 2008!


6. What is the last book you read?

I just re-read Pride and Prejudice by Jane Austen while I was on holiday. It's so much more than a period drama romance, it's satire and mockery of the ridiculous at its very best. Elizabeth Bennet is described as someone who takes delight in the ridiculous, which I would say about myself.


7. If you could be any character in fiction, who would you be?

Rose Tyler from Doctor Who. In fact any one of his assistants would do, who would say no to travelling through time and space? It the ultimate traveller's dream.


8. What couldn't you live without?

I would find it absolutely impossible to stay sane without music. I never sit in silence, there is always music on in the background.


9. What is your secret talent?

I make an awesome blackcurrant cheesecake.


10. Tell me about the last dream you remember having?

Er...not so long ago I was a bit stressed out with a lot of things on the go, and got woken up one night by a text message. I soon fell asleep again after deciding to ignore it. I was due to meet a couple of friends of mine in Langkawi in Malaysia in a couple of days time, and the text message triggered a fairly stressful dream about how they wanted to change their plans and meet me in Brazil instead. I woke up a bit panicked, to then read the text message that began with: "Sorry! Change of plan! Langkawi is shit, we've emailed further details about where we should meet..."

Weird huh? Well it turned out they wanted to meet in Kuala Lumpur, not Brazil. Which would obviously be ridiculous, but these things make perfect sense in the land of dreams.


11. What are you craving right now?

A cup of tea would be pretty awesome right about now. Yeah, some of the stereotypes about the English are true!


12. What was the last song you fell in love with?

This Orient by Foals. In fact, their entire Total Life Forever album, I've listened to nothing else for weeks, I adore it.


13. Can you hula hoop?

Yup. I have a pink and white stripy one. Love it.


14. What do you like?

Three things I love:
1. Travel. I want to see as many places as possible in my lifetime.
2. Laughing. You'll never catch me without a smile on my face for longer than a few minutes. I love anything that makes me laugh, and I do it often. Some people take life far too seriously!
3. Live music. Nothing compares to seeing a band you love live. The money I don't spend on travel gets spent on gig tickets and CDs.


15. What do you dislike?

Three things I don't like:
1. People who only see the negative, and aren't grateful for what they have and the world we live in.
2. Having nothing to do. I need constant occupation or I get restless.
3. Parsnips. Surely the food of the devil?


16. What's the best piece of advice you've been given?

"You don't know if you don't try"

Not sure if anyone in particular ever told me that, but I try to live by it. It's better to try and fail, than to spend your life too scared to try anything. I wouldn't be here doing what I'm doing and having had the experiences I've had if I'd been too scared to go out there and take chances.


17. How and why did you start RECording?

I think I found it via empireonline.com, in a reference to RegularJOE and the Morgan M Morgansen short film. I followed the link and it bought me here. I joined because I liked the real community spirit, the idea of creating something as a group, and I felt I could contribute. I won't ever create something amazing all by myself, but I'd love to help others to do so :-)

I just rewrote this part of this amazing story by Theimaginedconfidant a little, it's basically all the same I mainly just elaborated a bit on the first paragraph.

Hope its ok :-)



You can keep walking or you can wake up (edit)

We walked. We walked beyond the childhood memories, the tombs, the lake of things never done and the desert of choices waiting to be weighed. We walked in a place where the sky was as black as ink save for the ever pulsating show of distant lights beyond a rocky plateau. It felt like we had walked forever, and the robot ghost never said how long it would take. I think I would have walked until death had the robot not finally stopped me.

"Are you tired yet?"

My legs ached, my head too. My stomach was twisted into a thousand knots, and it felt as if a hummingbird lived inside my heart it was beating so quickly. With effort I nodded, tongue heavy in my mouth and emotions so thick in my throat I felt I would choke should I try to speak.

"You could keep walking", so I started forward once more, rescued by his ice cold hand settling on my shoulder and stopping me dead.

"Or you can wake up. You could walk here in this dream forever, but you'll never reach that place where your universe being made becomes your new reality if you're not brave enough to take that first step in the right direction"

I blinked owlishly at my guide and lifted my fingertips to my cheeks. They were damp. I was crying.

"Or you can..."

I woke up.

| | | |
| --- | --- | --- |
| | These weren't just any new shoes...these ones would take her places | |
| | | |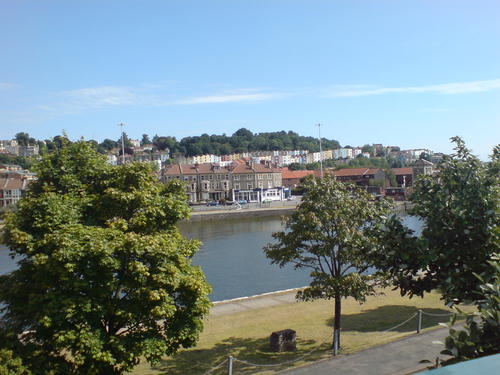 Coloured houses are charactersitic of Bristol, I dont know how it came about. These are my favourite, along the river Avon