Released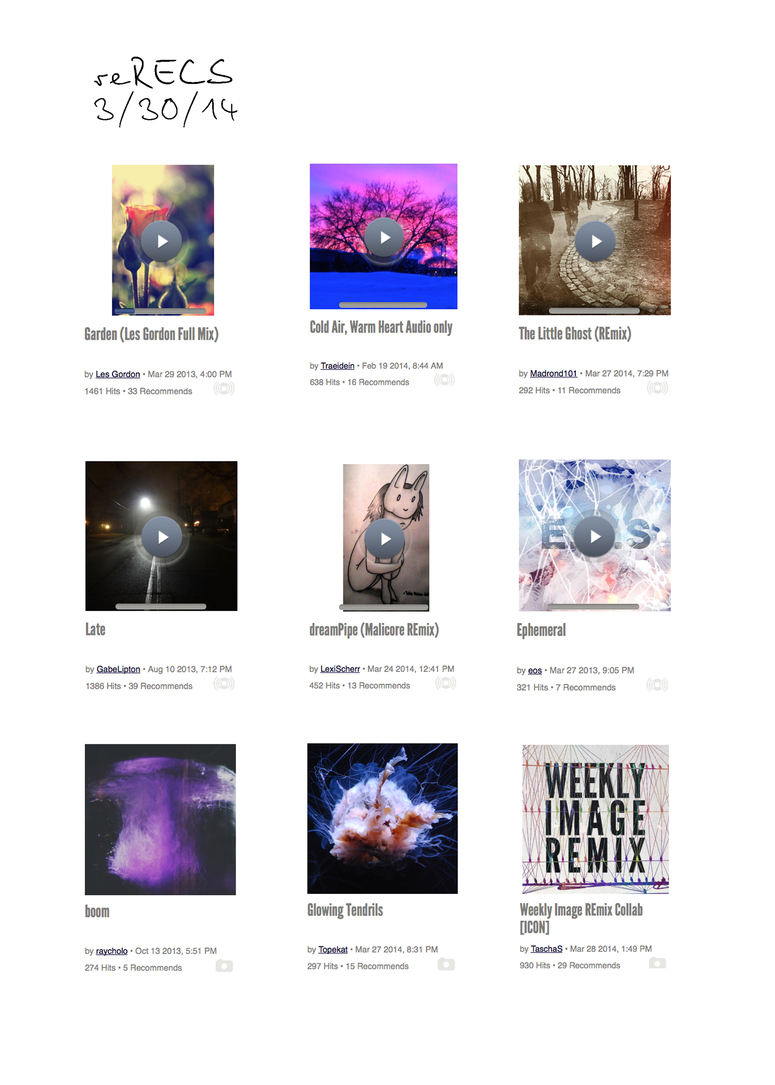 I discovered so many wonderful audio records this past week, that this week's reRECs have turned into mostly music. Have a listen and hopefully you find something(s) you like!

1) Garden (Les Gordon Full Mix) by Les Gordon
I've listened to this song more than anything last week. I'd love to see this brought to life visually in some way.

2) Cold Air, Warm Heart by Traeidein
I love this song, such a warm vibe with really lovely lyrics. Check the dance REmix by NOTaband, too!

3) The Little Ghost (REmix) by Madrond101
I basically have a crush on every song that Madrond101 makes. Listen to his songs, and you'll know what I'm talking about.

4) Late by GabeLipton
A beauty of a song that I've listened to more than once this week. His voice reminds me of someone but I can't quite place it. Oh, and he has also released the vocal and guitar stems, I'd love to hear this REmixed.

5) dreamPipe (Malicore REmix) by LexiScherr
dreamPipe is the perfect title. I love the way she describes the lyrics "it's an industrial future, where people are part human, part robot." That, plus her gorgeous voice and Malicore's beats = dreamgroove.

6) Ephemeral by EOS
His falsetto reminds me of someone I used to know, plus the sheer beauty and heartacheyness. This song gives me feelings.

7) boom by raycholo
One of those great abstract photos where you aren't quite sure what you're looking at, and that's what makes it so wonderful. This one's a beauty, and I have it bookmarked for a future image remix of some sort.

8) Glowing Tendrils by Topekat
Another dreamy abstract that was submitted to the Worlds Within Worlds collab. A facinating image, it reminds me of water and space...I am scheming up ways to incorporate this into a WWW remix, and hopefully it comes in handy for some of you, as well!

9) Weekly Image REmix Collab by TaschaS
This is a heads up for a brand new Image REmix Collab that will start this coming Wednesday. The idea is similar to the weekly theme/prompt as seen in the RECordographic Lens Project and Tori's weekly 10 Minute Writing Challenge, except the medium will be image remixing. I'm really excited about this one, as I have tons to learn about image/graphics remixing, and this will be a perfect excuse to practice. Keep an eye out for the first prompt on Wednesday!