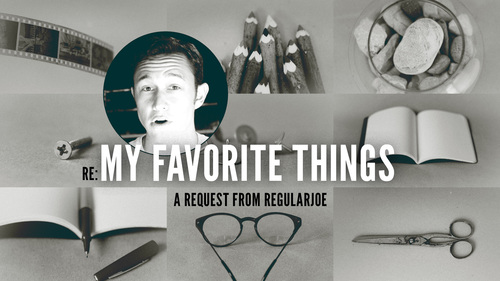 http://s3.amazonaws.com/hitrecord-prod/record_attachments/1313753/encoded/web_sd/RegularJOE-1313753.mp4
CALLING ALL ARTISTS: COME MAKE ART w/ US RE: "MY FAVORITE THINGS!"
You may have heard that I wrote and directed the upcoming movie "DON JON." It's a comedy about this guy named Jon who is very into his things - his car, apartment, body, and the women in his life that he treats like objects on a shelf. I want us all to make art regarding the theme "MY FAVORITE THINGS."
For instance, ask yourself: What are your favorite things? Can you truly love a thing? Can people be considered 'things?' Do our favorite things define us?
I've had this movie in my head for so long now, I'm really curious to see what kind of stuff it inspires us to make together.
==
You can contribute to the Collaboration here: http://www.hitrecord.org/collaborations/7347
==
Here's how you can contribute to this collaboration:
EVERYONE: Grab a camera and tell us what your favorite things are, and why.
WRITERS: Write a story or script regarding this theme.
ILLUSTRATORS & GRAPHIC DESIGNERS: Draw visuals or remix image resources on the site regarding this theme.
MUSICIANS: Make a song regarding this theme.
FILMMAKERS & VIDEO EDITORS: Shoot footage or cut together resources into Short Films regarding this theme.
==
Also, this is cool, you can download a zip file of the "DON JON" trailer, with the music taken off for editing purposes here: http://www.hitrecord.org/records/1313741. Resource it in what you make!
==
Thanks again <3
J
FCP by Dr. Gory