CALLING ALL WRITERS, ANIMATORS, & ILLUSTRATORS! There have been a ton of awesome "Invisible Family" contributions coming in - let's continue to make more based on some great examples.
==
WRITERS: Write more Text Records of adventures the Invisible Family - or its individual family members - can go on.
ILLUSTRATORS: Draw more Backgrounds & Props for Text Records from the collaboration that you like - or remix existing illustrations from the site.
ANIMATORS: Animate more adventures the Invisible Family - or its individual family members - can go on. Check out THESE ANIMATED EXAMPLES for inspiration.
==
Thanks!
CALLING ALL ARTISTS! We're starting a collaboration based on the Japanese culture - contribute all of your art and ideas!
==
WRITERS, JAPANESE HISTORIANS & SCHOLARS: Contribute Japanese stories or folk tales that could be told in 3 minutes or less. You can also write your own original story.
VOICE OVER ARTISTS: Find a story in the collaboration and perform a reading of it.
ORIGAMI ARTISTS: Contribute Origami art of all kinds. You could also upload a template so other artists could make their own. Please photograph your Origami on green paper so Animators can remix them.
ANIMATORS: Find visuals from the collab and do Test Animations of them. Or find a story you like, and Animate it.
ILLUSTRATORS: Contribute drawings for the collab.
MUSICIANS: Contribute Japanese-influenced music.
CURATORS: Make Albums of your favorite contributions to the collab.
==
Thanks!
•
4761 Hits
•
149 Recommends
Audio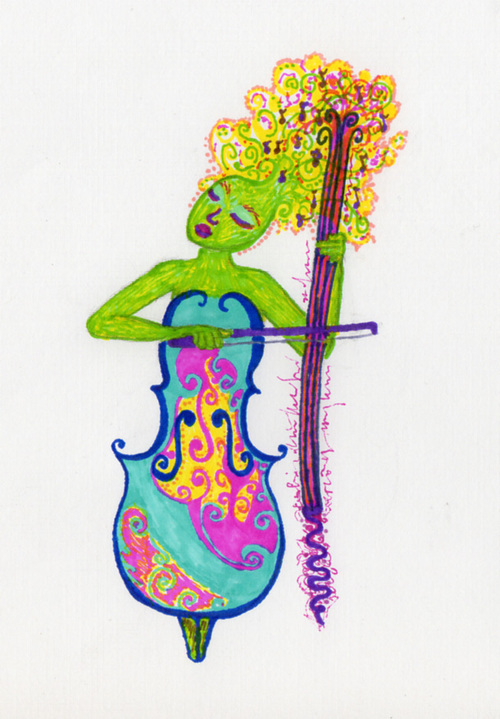 "Little Smokestacks" w/ CELLO STEM
Update Required
To play the media you will need to either update your browser to a recent version or update your
Flash plugin
.
Here's the stem! This is acoustic version...well just several acoustics on top of eachother. No reverb or anything. Any comments or suggestions are welcome. Thanks :)
•
1321 Hits
•
46 Recommends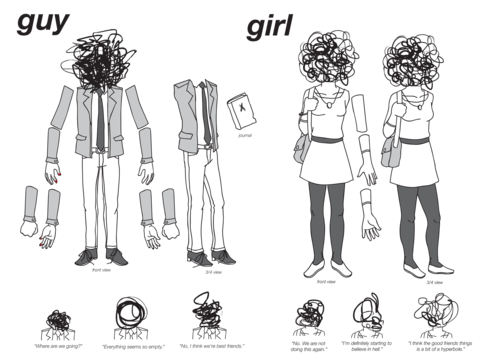 My submission for character designs for the "Subway Existentialist" collaboration. It's such an awesomely weird little piece of dialogue, I thought why do the characters even need to look human? The squiggly heads could move and change shape to match the expressiveness of the dialogue instead of matching up mouth movements. I also left them mostly uncolored so that people can add their own coloring/patterning/texture. Make it surreal and awesome!
A zipped folder of my original vector files can be found here for download and further remixing in "Results" below.
•
1386 Hits
•
51 Recommends
•
4352 Hits
•
235 Recommends
CALLING ALL ILLUSTRATORS: LET'S DRAW CHARACTERS & VISUALS FOR OUR NEW ANIMATED SHORT FILM!
We are making an ANIMATED SHORT FILM based on the Dialogue Tale "Subway Existentialist" written by Michal. crunchycrown and drdavey did an awesome Voice Over for it, but we need Illustrators to ILLUSTRATE THE CHARACTERS AND PROPS for this Short Film.
Listen to the VOICE OVER here: http://www.hitrecord.org/records/1121931
==
Please contribute all of your records to the collaboration here: http://www.hitrecord.org/records/1205886
==
Here's how you can contribute to this collaboration:
ILLUSTRATORS: Draw the following elements for this Short Film:
* Two Main Characters (Guy and Girl)
* Interior of the Subway Car
* Background Outside of the Subway (could be surreal or realistic)
* Other Passengers on the Train
* Props on the Subway (Journal, Trash, Graffitti, etc.)
==
NOTE: Please upload your Illustrations as High-Resolution .jpeg's.
ADDITIONAL NOTE: If you are illustrating Characters, please separate the layers of the characters into a template so Animators can remix them into motion.
==
Thanks!
FCP by theraymondwei and Dr. Gory
•
3760 Hits
•
132 Recommends
"Caution! You can drawn in the ocean of my thoughts about you!"
Dear friends you can remix this text also)))
I'll upload a picture without text later...
•
1663 Hits
•
74 Recommends