Released
The harmonic visual merge of my life as a fine artist and a professional.
The temple corrupted by fashionable temptation, the opposite of all it stands strongly for.
All textures were taken from ladies fashion handbags, and remixed into 'Temple' by Soupy.
This is my first *real* RECord, and I couldn't be more excited.
•
1367 Hits
•
65 Recommends
•
1541 Hits
•
102 Recommends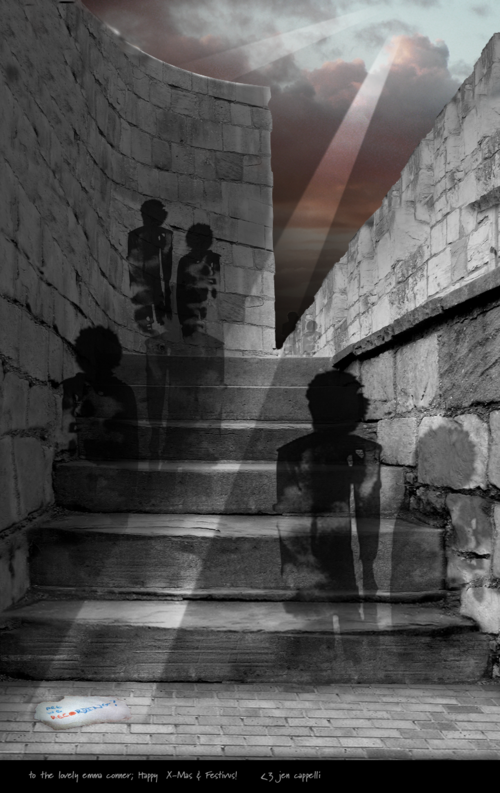 Happy SEKRIT SANTA TIEMZ!!
Not overly festive, but this goes to my dear emma_conner in the MOST heartfelt, festive way!
Merry X-Mas, and keep making shit, dear!
•
1746 Hits
•
60 Recommends
•
2434 Hits
•
87 Recommends
Who are you and what do you do?

I am jen.

I am a graphic designer.

I do all sorts of visual creative for sales, marketing, packaging, product development, photography, and more for FashionAccessories/Fitness/Health&Beauty/DisneyLicensed branding company.

TLDR; I LIEK TO MAEK ART

I also am a drummer. But that dream died around the same time I failed Grade 11 Math.
FUCKING ANNUITIES.

Update Oct/2013: I started taking drumming lessons again. <3

What's the origin of your artist name?

It's my fucking name.

FACT: "Cappelli" is hair in Italian. Angel hair pasta is called Capelli. OMNOMNOM

What has been your biggest challenge with your art so far?

Finishing shit I start

Aspiring projects vs what I actually do.

The constant inner fight to not produce what's popular.

Who or what is your biggest influence?

Personally:Parents, Grimmons, Boss

Artistically? Joe and all of you. One dude I've never met with one little website has blown my goddamn world apart in the best way.

What is your wildest story?

Probably going to see my favourite band and the various places around the province.

I ended up as a result-- drunk-underage-selling merch, backstage, on stage, casually draped over an amp, shoelaceless at an album release shuffling around, in the studio...

(But not in the groupie way. gross.)

What is the last book you read?

Lennon by Cynthia Lennon - Dude, Julian got a raw deal.

If you could be any character in fiction, who would you be?

Lightspeed from Marvel.

What couldn't you live without?

Cheese & Music

What is your secret talent?

I can actually sing and dance, but due to my size/look I never do either seriously in the company of others. This is truly the first time I've old anyone.

I also have my brown belt in Shorin Ryu Karate Jitsu. It came naturally.

Tell me about the last dream you remember having?

I could fly, and it was fucking awesome. It was still dark; early in the morning, and I flew along a highway and caught up to my morning train. I could control it by raising or lowering my arms.

What are you craving right now?

IRL Companionship. My last good, tolerable friend from out of town just moved out of the city.

(THE RENT IS TOO DAMN HIGH)

What was the last song you fell in love with?

The Salads - Weed & Wine

What do you like?

Seeing my art/design & product at retail

Writing fiction and dialogue in real time over a messenger with Grim. The story we've been writing on a daily basis has been going since 2007.

What do you dislike?

Sitting through a movie that was obviously not worth the price of admission 15 mins in.

What's the best piece of advice you've been given?

"...And who says that pain has to hurt? If you understand the cause, that'll make you more alert." - Mista D, The Salads, "Nuthin But Love"

How and why did you start RECording?

I was always fascinated by capturing my own version of the world around me onto paper or screen. My intense paranoia keeps me overly and staggeringly observant of patterns, looks, feels, and habits. I therapeutically require to expel these observations SOMEhow or I implode.

Plus who DOESN'T love getting fucking paid to make art that other people consume, wear, purchase, display or use practically? HobbyJob! :D

5 year old me: What job makes logos?

Mom: Uh, I have no idea...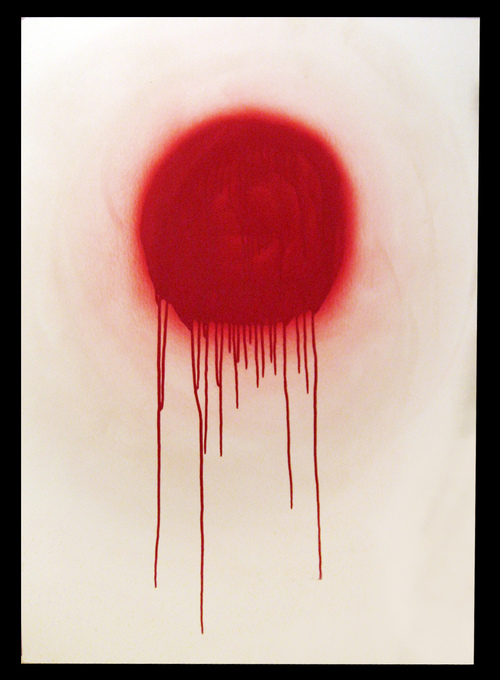 Motherfucking Tremclad on 52" (as if measured diagonally like a tv) Bainbridge board.
The finished project will be having multimedia 3D objects switched out around and infront of it on pedestal tables as it's the first thing you see in my hallway in the Swamp*. (The First being a series large branches)
*My new basement pad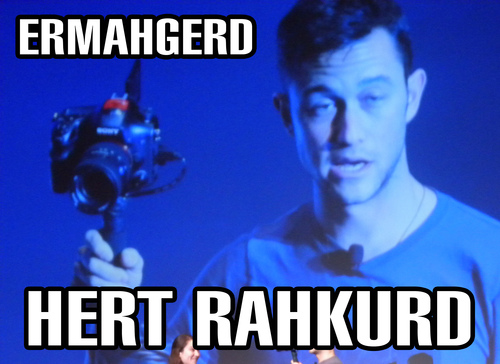 #IWILLNOTMAKEAMEME #IWILLNOTMAKEAMEME #IWILLNOTMAKEAMEME
#IMADEAMEME #IMADEAMEME #IMADEAMEME #IMADEAMEME