Released
Rouge
This pixilation animation was filmed for a group project set during the final year of my animation degree. We were given 3 very strict parameters. 1. It must contain a red character. 2. That character must enter and exit in an interesting way. 3. It must last EXACTLY 20 seconds. No more, no less.
This could probably do with a better soundtrack, so anybody that's got any ideas please take a stab at it.
Written and directed by Aaron Lockwood, Aaron Blackman and David Aylott.
I've added this to the Re: The Dark collab as I thought that the tone fits quite well, plus I think that pixilation would be a great animation style to include in the theme.
Okay, so this is just a VERY rough and quick test shot for an idea I had for both the Loops project and the Childhood project. I'm gonna add a person pushing the the person on the swing as well as colour and a background. I'll also have it loop for a bit longer so that you can sit mesmerized by it for at least a 30 seconds.
I'm pretty lazy, so hopefully i'll get this done in the next couple of days. I hope y'all like it.
*Update* Okay, so i've been a bit too busy over the last couple of days to do the next version of this, but i've also been trying to get a setup that means my picture will be bright and clear. I'll try another test tomorrow and post it for some feedback.
•
44686 Hits
•
233 Recommends
Before I grew from smallish to tallish, the swingset taught me this: Push yourself hard enough and you can forever feel unstoppable. - MarisaVictoria
So, here's my final swing loop. After two previous tests I think i'm mostly quite happy with how it turned out (i'm quite fond of how the unintentional change in lighting makes it look kind of like it's from 70's TV, and the hair works quite well), but there'll always be bits i'm not happy with (the legs look too stiff with not enough movment). It could definitely do with some sound/music, so if you have any ideas please take a stab.
When I saw MarisaVictoria's 'Child Wisdom' tiny story a day or two ago I thought it might fit well with the loop I had been working on. What do you think?
Thanks to everybody that has recommended my RECords so far and made me feel welcome here at hitRECord over the past couple of weeks.
•
1144 Hits
•
47 Recommends
Right, this is the 10 second version of my Re-Recs ident thingy (http://www.hitrecord.org/records/1019409) which I have added so that you can see how it loops. I'm pretty happy with it considering it only took me a couple of hours using Illustrator, which I can never understand how to use.
So, here's ANOTHER test, a very quick one that took maybe 20 minutes to film which is why it's so rough. I've decided to make a Magical Mystery Machine full of strange and interesting mechanisms, hopefully once it's finished it'll be about 10 times bigger than this. What does the machine actually do? I don't know yet, only time will tell.
So, it's been a whole month since I happened to stumble across HitRECord, and i'm so glad I did. In the past month i've felt more inspired and creative than I have since leaving uni 5 years ago. HitRECord is full of amazingly talented and creative people that are all producing wonderful work, as well as giving great feedback and encouragement. It has been a pleasure to be a part of this great communtiy and I look forward to continuing to be inspired by you all. Thank you, every single one of you HitRECorders.

Just as a quick update, i'm currently working on the new 'good' version of my On The Road Pre-Show Animation (the original 'bad' version is here - On The Road Pre-Show Animation Rough Test), and I just thought it would be a good idea to ask y'all if you'd help out by a) offering suggestions as to what scenery should be in it (so far i'm thinking houses, trees/forests, animals, mountains, lake/river) and b) sending me any illustrations you'd like to be in it (if you post a link to the work in a comment on the 'bad' version i'll download it and put it in there).

Right, so there it is, thanks to everybody for being great, it's been a pleasure and i'm sure i'll see you all around.
So, i've been building this thing for the past week or so following the encouraging reaction to my previous test (http://www.hitrecord.org/records/1023601). I know this is quite short (10 seconds and 10 frames), but IT LOOPS :D
SOOoooooo, what I need now is for one of you extremely talented people to download this little video and, using After Effects or some other programme, put some questions on the 2 signs that are in the animation. I'm hoping that once text or images have been placed on them it won't be too difficult to simply change the text/images and then just loop it (does that makes sense) Anyway, i'm sorry for leaving this so late and not leaving much time to get this completed, but I hope that some of you can help out. I'm also hoping that humunkulus (his previous idea can be found here - http://www.hitrecord.org/records/1029338) can still do some more amazing music for this.
For anybody that wants to have a pop at adding the text/images, it was filmed at 25 frames per second and shot at 1280x720
I look forward to seeing how this turns out.
Thanks y'all!
SOOOooooooooo, I loved mouette's 'lips' painting, and adored what brittanyalyse did with it in her 'Rouge' remixed version, so I just HAD to be a part of it. I've added my 'First Love' tiny story using tdolan's 'Ink Letters'.
•
1316 Hits
•
96 Recommends
This is the Final animation that I did for my degree five years ago. Looking back at it now it's pretty shoddy (I rushed a lot of it, so the animation is a bit lame and it's missing lot of stuff that I simply didn't have the time to film) and the story isn't too great either (but hey, i've never considered myself a writer). Apologies for the terrible quality, I lost my digital copy of this (DAMN YOU, CORRUPTION!) so had to rip it off of my DVD copy. Also the file was HUGE, so had to use Media Encoder to reduce the file size. If anybody wants it I could have a go at uploading a better quality version. I've taken the music off (for copyright reasons), so if anybody feels inclined to add a their own that would be great. Also, feel free to cut it up and do whatever you want to to it, i'm sure anything you guys do to it will only improve it.
•
1158 Hits
•
50 Recommends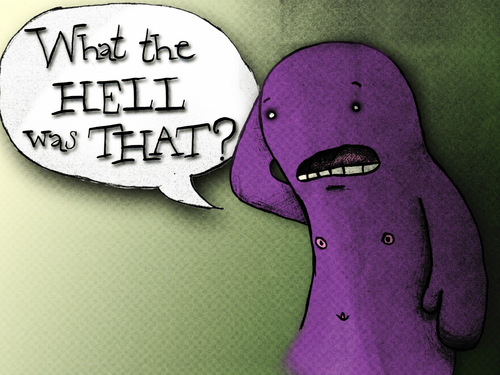 I saw SnickerSnack's Out Of Context Comic Panels Collaboration and wanted to contribute something, and seeing as i'd just produced a character without a story I decided to give it some text and came up with this little quickie. I'm addicted to tdolan's letters, gotta love 'em, right?