Rouge
This pixilation animation was filmed for a group project set during the final year of my animation degree. We were given 3 very strict parameters. 1. It must contain a red character. 2. That character must enter and exit in an interesting way. 3. It must last EXACTLY 20 seconds. No more, no less.
This could probably do with a better soundtrack, so anybody that's got any ideas please take a stab at it.
Written and directed by Aaron Lockwood, Aaron Blackman and David Aylott.
I've added this to the Re: The Dark collab as I thought that the tone fits quite well, plus I think that pixilation would be a great animation style to include in the theme.
I can't think of nothing.
So, it's been a whole month since I happened to stumble across HitRECord, and i'm so glad I did. In the past month i've felt more inspired and creative than I have since leaving uni 5 years ago. HitRECord is full of amazingly talentedand creative people that are all producing wonderful work, as well as giving great feedback and encouragement. It has been a pleasure to be a part of this great communtiy and I look forward to continuing to be inspired by you all. Thank you, every single one of you HitRECorders.
Just as a quick update, i'm...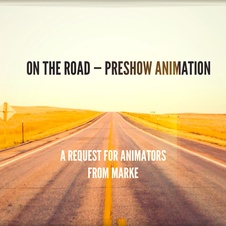 4 Contributions
12 Contributions