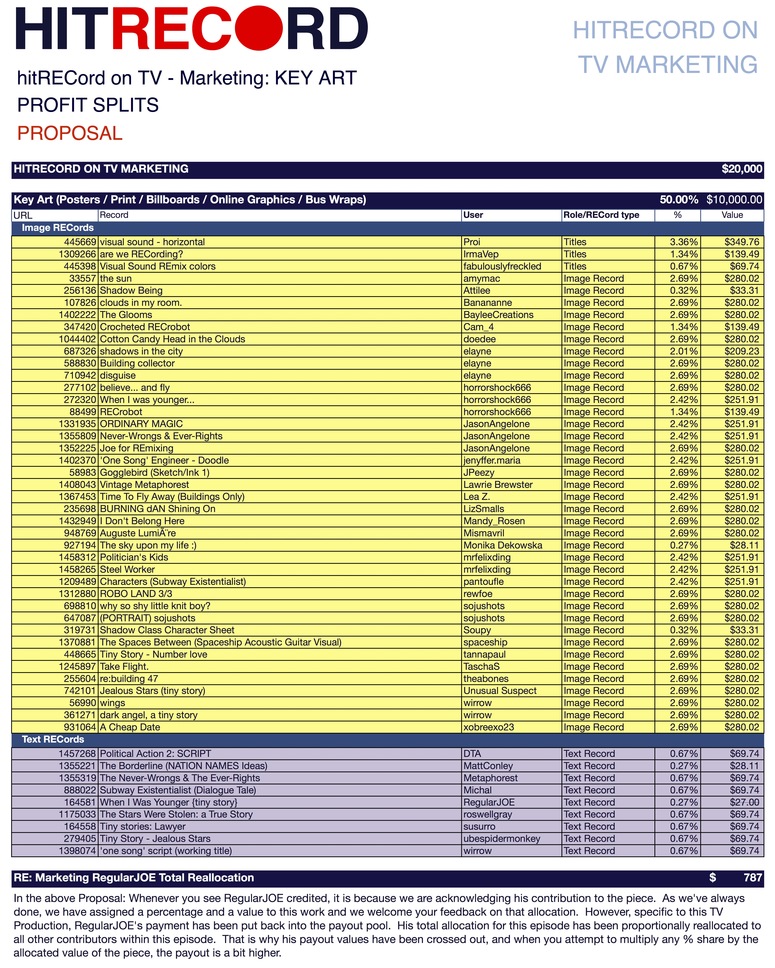 This is how we propose to split up the profits for the Season 1 Key Art of HITRECORD ON TV.
Join in the discussion and give us your feedback by Wednesday April 2nd, 2014.
Thanks!
==
NOTE: In these Proposals, whenever you see RegularJOE credited, it is because we are acknowledging his contribution to the piece. As we've always done, we have assigned a percentage and a value to this work and we welcome your feedback on that allocation. However, specific to this TV Production, RegularJOE's payment has been put back into the payout pool. His total allocation for these pieces have been proportionally reallocated to all other contributors within the pieces. That is why his payout values have been crossed out, and when you attempt to multiply any % share by the allocated value of the piece, the payout is a bit higher.
==
ADDITIONAL NOTES: Variations of the HITRECORD ON TV Key Art were used on Posters, Billboards, Bus Wraps, and Online Graphics. We feel that for the purposes of this Profit Proposal, the fairest and most comprehensive way to compensate the contributing artists is to pay for the resources of the full KEY ART HERE.