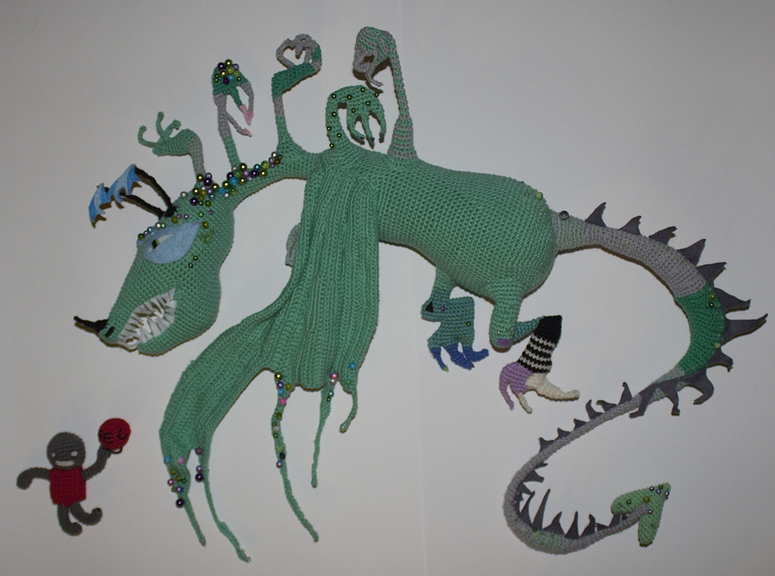 (I haven't quite finished the dragon yet. I will post the final photo of it as soon as I've added the other wing, some more teeth and the rest of the beads.)
Exactly 3 years ago today I finished the RECrobot and uploaded it here on hitRECord. I had the idea of trying to crochet something from hitRECord, while I was waiting for my plane home at London Heathrow. I just happened to be wearing my RECrobot T-shirt and then it took me about 2 weeks to finish it.
I could never have imaginged then, being able to crochet all of the things I have in these 3 years.
With a big smile on my face I dug through most of the things yesterday to find the RECrobot (I've parted with a few of the pieces over the years)
To be honest I didn't really think I could make this dragon when I first saw it, but then again I've felt like that with almost everything I've crocheted based on images I've found here on hitRECord. Every piece has challenged me and I'm so grateful for that.
I could never have gotten this far with my crocheting without all of the artists whose images I've worked on:
horrorshock666, Soupy, Wirrow, colormetwice, InkedCanvas, tiafischer, cosmicolor, Kudzu, JPeezy, MelonBerri, ditha, rejjie, LydiaSaskia, SRL73, 12.42, MoiSanom, sojushots, elayne, ppeppina, Kubi, tdolan and pencil.just.dance.
and all the encouragement I've gotten from... EVERYONE!
I know some of you think I can crochet anything but that's not quite true. But tackling the new challenges have gotten easier over these 3 years.
Thank you from the bottom of my heart!!!