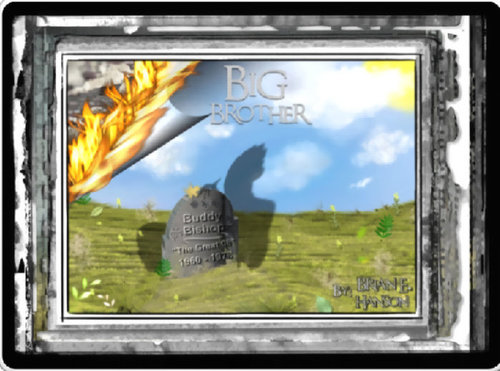 "Big Brother"
By: Brian E. Hanson
Scene: Buddy's Grave at Oakridge Cemetery
ACT 1
Scene 1: The picnic.


The Oakridge Cemetery sets the scene on this brisk Fall day as Audrey and Josh enter the stage. The gravestone of Brother Buddy is to the left and Audrey, flowers in hand, walks slowly up to it with Josh in tow, carrying the picnic basket and blanket.

Audrey:
Oh, Brother Buddy. I brought you flowers. These lilacs are my favorite and I thought you might like them. Mr. Carpenter from the floral store said to say hello! He wanted to talk all about your football games. The way you led the team to victory that year and scored the winning touchdown. He even called you "the great 08." If I close my eyes sometimes – I can still hear the crowds cheering that, over and over, the great 08 – the great 08! This town still loves you Buddy!

Josh: Rolls his eyes.
Yes Buddy, everyone loves you. This town's still stuck in time just like your little sister.

Audrey:
Why do you always do that?

Josh:
Do what?

Audrey:
Make fun of him. It's like you're still jealous of Buddy.

Josh:
If I WAS jealous it's because you and everyone else in this backwoods' town can't stop talking about him. Buddy was the captain of the football team Josh. Buddy took Lindsey Wallace to the senior prom they were king and queen Josh. Buddy saved me once from drowning up at Rocky Pond Josh.

Audrey:
Well, he did and I wouldn't be here without him. He looks out for me.

Josh:
Looked – out for you Audrey. He's dead.

Audrey:
Who did you ever save? Huh, who?

Josh:
Well, Buddy couldn't save you from getting pregnant could he? He can't stop that time bomb from growing bigger inside of you can he?
Audrey throws Josh the biggest look of shock and hatred she can in this moment.

Audrey:
Just because YOU don't want this baby or – to grow up for that matter, don't assume I'm the same. I'm raising this baby one way or another. With or without you!

Josh:
And how are you going to do it? You have no job. No money. Your parents aren't even talking to you anymore and I'm seriously considering doing the same here. Face it, you need me.

Audrey:
Puts her hands on her belly.
This baby is the only reason I'm still with you and if you can't treat me with respect and play a part in our child's life, you won't have any part in mine Josh Devillen.

Groundskeeper Bennings:
Is everything alright here folks?

Audrey:
Yes Mr. Bennings, Josh was just telling me how he can't wait to be a father.
Josh looks at Audrey with a scowl and Audrey matches it with a blank smile.
Why don't you set up the picnic Josh while I talk with Mr. Bennings.
Annoyed but compliant Josh spreads out the blanket and unpacks the food from the basket but goes straight for the wine.

Groundskeeper Bennings:
So Audrey, when can we expect the little baby bundle?

Audrey:
I've got about three more months to go. January 31th is the due date, but he keeps kicking to remind me of just how long of a wait that is..

Groundskeeper Bennings:
(Laughs) Well, if he's kicking – he's ticking, and that's a good thing - ya.

Audrey:
(Laughs) I never thought of it in that way before but – yes. That IS a good thing. Hey, I want to thank you for taking care of Buddy here for the last year.

Josh:
Yes, Bennings, all these rotting corpse's owe you a BIG thanks!

Audrey:
Be quite Josh! (Audrey throws Josh another look of disappointment then turns to Mr. Bennings again.)

Bennings:
It's my pleasure miss. The buried need looking after. I still remember that night – when your brother passed. He was a true hero saving that little boy from that house fire. It's a shame he didn't make it out of there.. It's a damn shame!

Audrey:
After he saved the boy he went back in to rescue the dog. (Josh rolls his eyes.) Then the house collapsed.

Bennings:
The whole damn town collapsed that night miss. But, in the end, I believe Buddies' watching over us just like he was when he was alive. You know, the dead wait while their time passes before they rise up to heaven but while they wait, they listen. (Mr. Bennings gathers his focus) Well, I've got to go. There's a fresh new grave that needs digging. A sad story really – it seems some kid got himself all torn up out in the woods..

Audrey:
That's sounds awful! What was it, an animal?

Bennings:
You could say that..

Audrey:
Funny, I don't remember reading anything about this..

Mr. Bennings:
Well, good day Miss. (turns to Josh, who has already half downed the wine, and squints his eyes in disapproval. Josh holds up the bottle and tilts it forward towards Bennings. Mr. Bennings just walks off with a mumble.)

Audrey:
Goodbye Sir. (Audrey turns her attention to Josh.) Josh, did you really need to be so rude to Mr. Bennings? He was just being friendly.

Josh:
If you ask me, I'd say he's gone crazy with all that "the dead listen" garbage..

Audrey:
Well then it's a good thing no one asked you. Now, let's see if we can get through this picnic without anymore fuss, I'm starving. (takes the sandwiches out of the basket and passes one to Josh.)

Josh:
Look, all I'm saying is, half the people I know who are alive don't really listen all that well. How exactly is it that, the dead, buried underground mind you, hear us? Don't their ears rot off after awhile?

Audrey:
My brother is sleeping over there (points to Buddy's grave), have some respect.

Josh:
Oh what? Like he's going to hear me.. And, he's not sleeping Audrey, he's rotting. He's sinking, stinking, rotting away down there.

Audrey:
Why do you hate him so much? Huh, why? You ALWAYS hated Buddy. Maybe if you tried being a little…

Josh:
What? More like him?

Audrey:
Well why not. He was a hero to this town. He was a hero to me.

Josh:
He was a jerk!

Audrey:
He was NOT!

Josh:
Audrey, they buried him in his football jacket for Christ's sake! He was a self-centered little brat who loved attention and made everybody else look like fools.

Audrey:
Oh – well, there it is.. You ARE SO jealous of him. You hate him because you're small in this town and everybody knows it. You and your big bad anger. You'll never be like Buddy. You'll always be a small fish and you know it. THAT'S why you hate him.

Josh:
(Gets up, grabs Audrey's arm and pulls her over to Buddy's grave.) Well, where is he now Audrey? Where is he now! You think I don't get it? You think I don't understand that a girl like you never would have had anything to do with me if it hadn't been for that baby anchor inside you? Do you think I don't know this? I know. I also know that if you hadn't been so busy trying to be BAD after Buddy died, you wouldn't have been so piss drunk that night and we never would have slept together. You're right, I am just a small fish in this town but this town is pretty small, and you live in it too. All these ideas you have of what you want you and I to be, you're just fooling yourself. Do you really think you're getting out of here? You're stuck here just as I am. Only it's worse with you because you don't even seem to know it.

Audrey:
(Audrey tries to pull away from Josh's grasp but he pulls her in to him.) Let me go Josh! (Pulling away again.) Stop it!

Josh:
You're never getting away from here.

Audrey:
You're hurting me Josh! Let me go.

Josh:
Do you remember how Buddy looked when they finally dug him out of that collapsed house? He was all burnt to bits but he had this look on his face like he knew.

Audrey:
Knew what Josh? (Audrey says with a shiver)

Josh:
I was so tired of him soaking up everybody's attention all the time. "Buddy is so cool," Buddy this and Buddy that.. It wasn't hard to predict that Buddy would have gone in there and tried to save that family. Our resident superman to the rescue. With Buddy riding on the float in the Oakridge parade I knew exactly where and when he'd be passing by that house. The parade made the perfect cover, everybody had their back turned to me. Everybody was so fixed, as usual, on what Buddy was doing that nobody saw me throw that bottle that started the fire.

Audrey:
Oh my god! (She pulls and wriggles but Josh holds her tighter.)

Josh:
I never had to live under his shadow again. But, then there's you. I mean, screwing his little sister was just the icing on the cake, but you wouldn't shut up about him.. You just kept going on and on about Buddy!? It's like he's still living.. I - I can't take another minute of it. Buddy's dead and he isn't going to save you this time.. Nothing's going to save you or your little brat!

Audrey:
(crying and yelling). Help! Someone help me! (As she pulls and struggles to get away from Josh, her last attempt to pull away slides her out of his grasp. As she does, she falls back and lands head first into Buddy's tombstone. She tumbles off and lands next to the stone by Buddy's side. Blood stains the tombstone from her head and it appears that Audrey is dead).

Josh:
(Josh examines this situation in denial). I didn't do that.. (Said with a sly tongue). You fell. It wasn't my fault you landed where you did! Sure, I was probably going to off you soon enough here, but this wasn't exactly how I was going to do it.. I would have been a little more creative about it. You – you had your chances to be there for me.. (Josh getting angry). I would of made a good boyfriend if you'd of just shut up about your stupid big brother. He didn't leave me any room to become important and I could of done great things! I could have been a hero! I just need more time you know, to figure out what works..

(Josh takes the second bottle of wine off the picnic blanket and has at it). Maybe, what really works, what makes me me is – being bad? Hell, I've got a knack for it. Why couldn't I have been the lucky one? This town's treasured holy son.

(Josh sits down on the picnic blanket with his bottle in hand). I could have been somebody.. (Josh is passing out from the wine). I just needed more times all.. (Josh lays down and falls asleep on the blanket).

(After a sec, the lights go slowly from light to dark signaling the switch from day to night and the scene is left in near darkness. Then suddenly, a red light shines down on Buddy's grave and we begin to see a hand claw its way through the ground in front of the grave. The hand and then another is joined by what appears to be a head, Buddy's head. Buddy is making his way up from the ground. He's wearing his old football jacket as mentioned before and it's as ripped and dirty as he's rotting and dead. Buddy looks over at his sister as she's the first thing he notices. He bends down and picks up her hand. He lets it go again as it flops to the ground. At this Buddy lets out a moaning scream in anger and he scans around with his head only to find Josh, passed out over on the blanket nearby. Standing back up on his rotting feet, Buddy makes his way towards Josh. He just stands there for a moment and tilts his head to one side as he looks at Josh sleeping. Buddy leans into Josh and grabs his arm. Josh still asleep doesn't wake. Buddy put's hand over Josh's mouth and after a sec, Josh wakes up breathing in a rush of air and staring right into Buddy's horrible face. Buddy let's his hand go from Joshes mouth but is still holding his arm).

Josh:
No! No, it can't be you! You can't be real. (Buddy starts pulling on Joshes arm now). You've got this all wrong Buddy! I didn't kill her. (Buddy just stairs at Josh). I was trying to stop her. She took her OWN life. She didn't want to live anymore because she was so sad with you being dead and all. She came here to do it. She came here to kill herself and her baby. (At this mention of her baby, Buddy let's out another howl in sadness). Oh, that's right, you didn't know that Audrey was pregnant did you?! (A small smile raises on Joshes face at being able to give his adversary more pain, even in death). Such a waist Buddy. And you were right there, you could have saved her. That's what you do isn't it? The great Buddy! The Great 08! Where were you Buddy? Weren't you listening down there? She cried for your help right over your grave but you never came. Then she – she just slipped away. (Buddy still saddened, is becoming confused at this information). Where were you Buddy? She needed you to stop her. She needed You to be there for her. You failed Buddy. You failed! If you'd only listened to what was going on.. If you only listened..

Buddy:
(Voice gargled). I DID LISTEN! (Buddy begins to pull on Joshes arm again).

Josh:
What? No! Let me go Buddy. Let me go! (Josh screams in pain till his arm rips out of it's socket and Buddy whips Joshes face with it). Ahhh, you little shit!

Mr. Bennings:
(Bennings walks into the scene) Buddy, it's been a long time boy. (Said with a look of nostalgia). You know what has to be done don't you Buddy.

Josh:
Please Bennings, make him stop! I'll do anything. Please.

Mr. Bennings:
Remember when I told Audrey that the dead listen? Well, I seemed to of forgotten to mention exactly who they listen to.. You see, I take care of them up here and so, in MY cemetery – they listen ME!

Josh:
So tell him to stop!

Mr. Bennings:
Oh no. You see, you are the animal and I've already dug your grave..

Josh:
What?

Mr. Bennings:
The body that's found in the woods all ripped up, the one for which I dug up a new grave, it's yours! You know what to do Buddy! It's time..

Josh:
No, no, no, no, no, no, noooo!

(Buddy closes in on Josh and twists his head quickly to the side snapping his neck! Josh falls to the ground, dead. Buddy walks back to where Audrey is lying on the ground and kneels down, picks her up to his chest and holds her).
Mr. Bennings:
Not to worry Buddy, I'll put you back in your home and take care of this mess. It'll be ok. I'll put her right by your side so you'll never have to be too far away ever again.

~FIN~