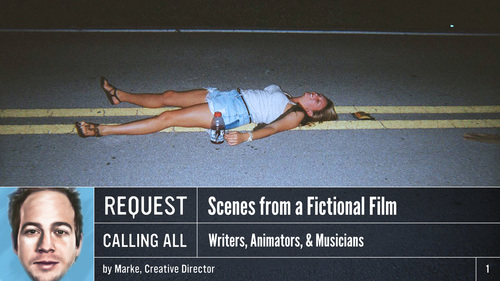 http://s3.amazonaws.com/hitrecord-prod/record_attachments/1552431/encoded/web_sd/regularjoe-1552431.mp4
CALLING ALL WRITERS, PHOTOGRAPHERS, ANIMATORS, & MUSICIANS: Let's make more scenes from a fictional film! Check out catamaranwestern's "Scenes from a Fictional Film" collab and contribute writing, photos, animation + audio!
==
WRITERS: Find cool photos on the site and add short subtitles, dialogue, voice-over, or narration.
PHOTOGRAPHERS: Contribute evocative photos that are in need of text.
ANIMATORS: Make these still photos come to life by adding subtle motion to the frame.
MUSICIANS: Create audio for these animations.
==
Thanks again <3
J
Featured Collaborations
These are some of the collaborations we're currently working together on. Wanna contribute?
Find a New Collaboration To Work On
If you have a specific set of skills and are looking for cool collaborations, check these out!
What are you good at?
Show:
Active
Most Recommended
Recent