Released Mar 23, 2013
We know things, enough to talk to one another,
Enough to tell tales, to learn from each other,
And to scare the old fear of respect into our minds
And say, we are of a type, we are are of these kinds.
Find Tribe, find flock, find fellows.
Cuss dark, cuss other, cuss unknown.
And build something around yourself to say
That you are not the hunter.
But you are one who hunts, to feed, to defend, to be.
That you are not the taker
But one who takes to create, to learn, to know, to see.
That you are not the breaker
But one who breaks to build, to cool, to rest, to take knee.
And that you are not the killer,
But one who keeps his and hers alive at whatever the cost may be.
Maybe.
So craft homes and swords, pens and knives,
Build families and armies, stories and lives
Take knowledge and power, and see who survives.
And know that we are the small creature, the weakling,
The soft ones,
who built spears to take lives. 
and made fears to take lives.
And that's why we are the predators,
From which smart lions hide.
•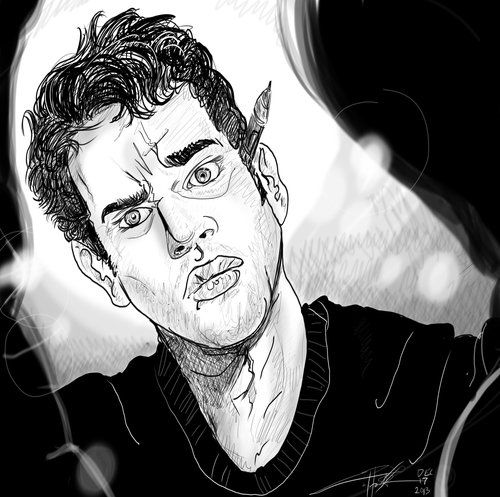 This collaboration is an invitation, a challenge, NAY, a DARE — can you write a poem a day, every day, for a month?
Here is the mad scheme - write 30 poems in 30 days. That's it. One month of your life, one poem every day.
We tattered few who have done it can promise: it's kind of awful, kind of wonderful, never easy, and always worth it.
ARE YOU A WRITER? BRING IT.
Get your poem-a-day on!
Start right now! Or tomorrow! Or after you've had a bagel! Whatever!
NOT A WRITER? NO PROBLEM.
There is so much poetry here you can use as raw material. Make a blackout poem! Do a voiceover! Make a short film inspired by a poem! Take some of these poems and use them as song lyrics! Illustrate them! Animate them! Remix to your heart's content!
You can submit your voiceovers or performances to the RECITE A POEM EVERY DAY collab.
For more details on Poem Every Day, here is a quick FAQ.
And here are the prompts for April 2015.
love!
-evyn
Show More